Head of Fleet Recruitment
Introduction from our Chief Constable
Thank you for your interest in developing your career with Lancashire Constabulary. We believe in individuality, diversity, and initiative – people who can be counted on – not simply counted.
We have a fantastic force of over 5,500 officers and staff, all sharing a passion and determination for keeping Lancashire's people safe. Here at Lancashire Constabulary we are committed to a nationally recognised set of behaviours and values. All employees who join the team believe in a common code of ethics and are dedicated to demonstrating all that this entails and creating an inclusive and open-minded workforce that reflects our local communities. Serving our public respectfully and fairly with integrity and transparency is at the heart of everything we do as reflected in our Vision and Values;
Our Vision – Preventing and fighting crime. Keeping our communities and people safe.
Our Values – We're professional, accountable, and united. And we do everything with respect.
We are extremely fortunate in Lancashire to be in the very safe hands of an exceptional team of chief officers and senior staff who possess an enormous range of skills and experience between them. Each has their own areas of expertise, and together they strive to ensure our constabulary is the best it can be.
If you are interested in joining this team and resonate with our values, then we look forward to hearing from you.
Chris Rowley
Chief Constable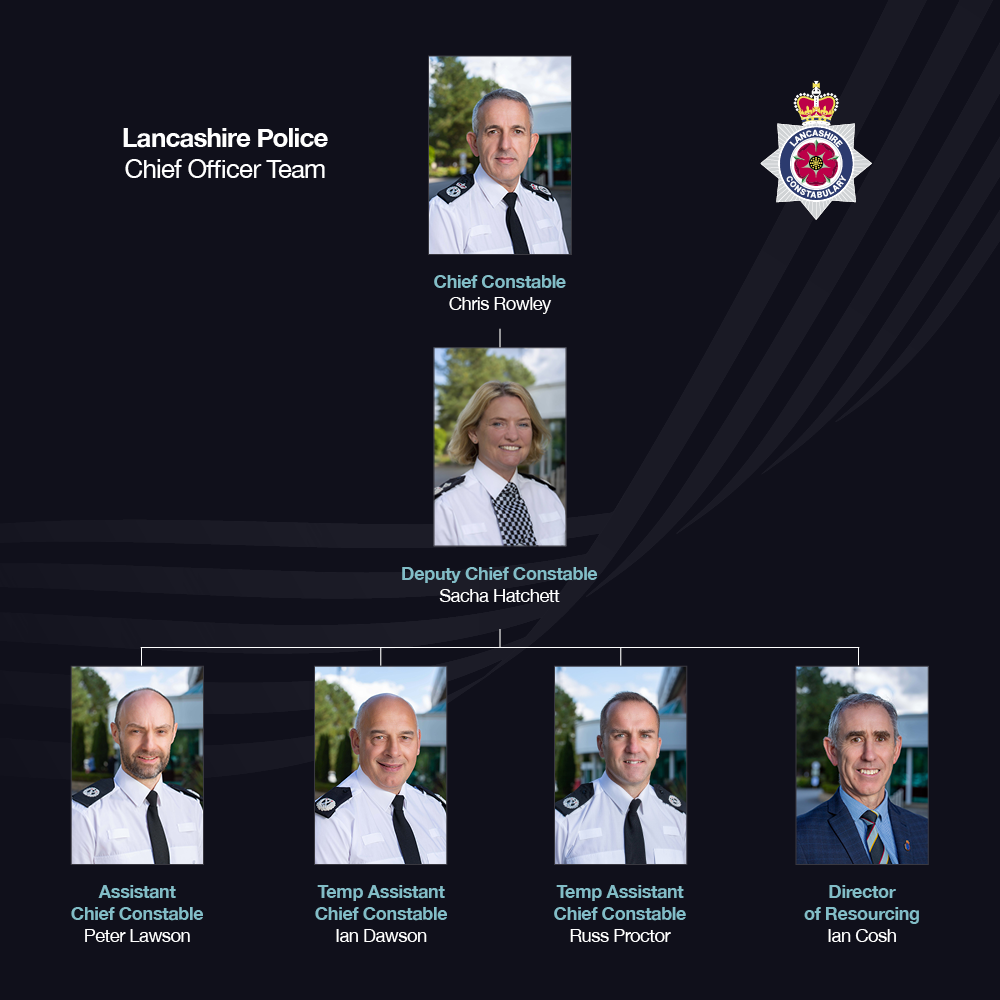 Why Lancashire?
Founded in 1839, Lancashire Constabulary covers an area of 1,189 square miles. The county has a population of nearly 1.5 million people with a rich diversity of communities, all with specific policing needs. Serving them is demanding and challenging but incredibly rewarding. We enjoy one of the most diverse and interesting regions in the UK, and no day is the same.
The constabulary is split into three divisions, West, South and East and our Headquarters is based in Hutton, Preston, with our Dogs and Mounted section nearby. Each division is run by a Chief Superintendent. To accommodate our workforce of just over 5,500 people we have an extensive network of locations across the county.
To ensure we fulfil our commitment to policing Lancashire, we have a very special workforce made up of over 3,000 Police Officers and 2,500 Police Staff – of which 290 are PCSOs and 460 Special Constabulary Officers, Police Cadets and Community Volunteers.
Our force covers a hugely diverse geographic area, from coastal towns, including Blackpool and Morecambe, to the buzz of our large towns, city centres, and rural communities too.
Lancashire has a £30.8bn economy, 1.5m residents, 732,000 jobs and 53,000 businesses. There is a large visitor economy worth £4.4bn, attracting almost 69m visitors annually.
By joining Lancashire Police you will become part of a force which is as wonderfully diverse as the geography. We have renewed our commitment to diversity, equality and inclusion and formalised the strategic priorities in the strategy below;
Daily Demands…
Just 19% of our calls for service are crime-related. 81% is everything else, 33% of which relates to concerns for safety and of that 20% relates to mental health.

Received

664

999 calls and

2315

non-emergency calls
Make

83

arrest

3

of which are

for sexual offences
Deal with

15
burglaries
Carry

out
30
stop & searches
Deal with

195

anti-social

behaviour incidents
Submit

35
vulnerable adult and
34 vulnerable
child referrals
4 of which are
CSE related
Support

3610
families enrolled in the troubled families programme
Deal with
105
violent crimes
Attend
10
road traffic
collisions
Responded to
19
missing person
reports
The Opportunity
Head of Fleet
Salary £57,260 TO £63,842
Applications close at 12 noon on Monday 8th November 2021.
We are searching for an experienced and forward-thinking Head of Fleet to lead our Vehicle Management Unit (VMU). Reporting to the Director of Resources, the Head of Fleet will have overall responsibility for all aspects of the Fleet and Transport function including;
Development and delivery of strategies (including the Green strategy).
Evaluating and developing new vehicle related technologies. Including knowledge and experience of hybrid and electric propulsion systems and the use of telematics.
Contract and procurement management.
Road transport knowledge and compliance.
Cost reduction and reporting.
Applications are invited from suitably experienced Fleet and Transport professionals, able to work at a strategic level in a complex organisation delivering exceptional customer service and quality of service. As Head of Fleet, you will provide strategic direction, working closely with the Chief Officer Team, Executive Leadership Team and wider Senior Management Teams to deliver maximum fleet availability and effective operational support to the Constabulary.
If you would like to have an informal conversation about the opportunity before you make your application, you can speak with the Director of Resources, Ian Cosh. You can arrange this conversation through Becky Tyson by calling 01772 412227.
Our ideal candidate will
Provide expert advice, guidance and support to the Chief Officer Team.
Drive an effective and efficient service provision across the Force for all aspects of Fleet by fostering a culture of continuous improvement.
Deliver the best use of technology, people and other resources, whilst evaluating and developing new vehicle related technologies, achieving operational objectives and potential cost savings.
Inspire others by leading positive cultural change across the workforce.
Be positive and proactive in nature.
Provide a thorough understanding of road transport legislation and compliance.
Represent the force on a national and regional basis.
Eligibility Criteria
In order to be considered you MUST meet all of the eligibility requirements:
Qualified to full membership level of the Institute of the Motor Industry, The Institute of Road Transport Engineers or Diploma level of the Institute of Car Fleet Management.
Substantial experience in Fleet and Transport service management at a senior level in a large organisation.
Management of significant capital and revenue budgets relating to vehicle and equipment purchase.
Additional criteria as stipulated in the job description.
Head of Fleet
Application Process
Applications close at 12 noon on Monday 8th November 2021.
If you would like to have an informal conversation about the opportunity before you make your application, you can speak with the Director of Resources, Ian Cosh. You can arrange this conversation through Becky Tyson by calling 01772 412227.
This role is required to operate at Level 3 in the Competency Values Framework (CVF).  More information about the CVF can be found here.
The process of shortlisting will take place w/c 8th November 2021.  You will be notified of your application outcome shortly thereafter via the online recruitment portal where you submitted your application.
Shortlisted candidates will be invited to undertake a presentation and interview, which will be conducted w/c 22nd November 2021.
The interview panel will consist of Director of Resources Ian Cosh, Head of Estates, Fleet and Facilities Management Cristina Marshall, Fleet Services Consultant John Heussi and a senior uniformed officer (tbc).
Candidates will be emailed the presentation topic in advance of their interview date.


We will notify you of the outcome of the final interview shortly after all the interviews have taken place.