50 new Officers hit the beat in Lancashire!
We have this week welcomed fifty new officers to the front line of the Lancashire Constabulary family.
And the new recruits will now be heading out across the county to begin their careers serving and protecting the communities of Lancashire.
Two attestation ceremonies were held at Lancashire Constabulary HQ this week to swear in the new officers who have joined through the Degree Holder Entry Programme (DHEP)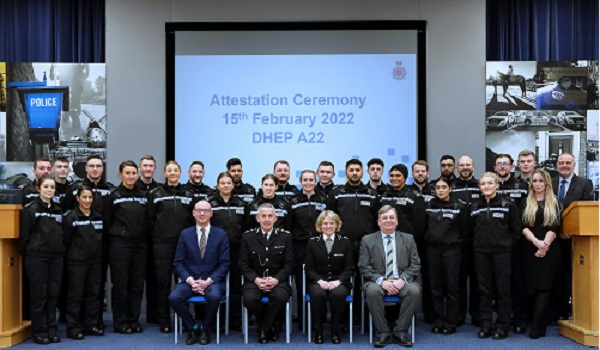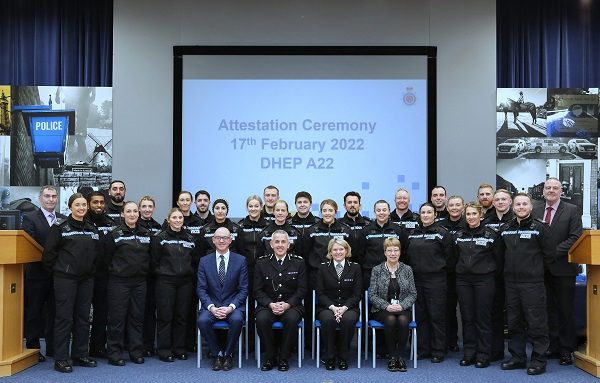 The recruits were sworn in by Chief Constable Chris Rowley and Deputy Chief Constable Sacha Hatchett and joined by family and friends.
PC Awais Hussain said "The attestation ceremony is a really special day for me and my family, as this is the beginning of my career as a Police Constable.  I am devoting my time and effort to serving communities and that is really important to me."
PC Victoria Hill said "It is great to share this special day in front of my family in particularly my dad as he worked at Lancashire Constabulary.  He is my inspiration and I hope that I can achieve just as much in my career as he did."
Chief Constable Chris Rowley said: It's fantastic to officially welcome these new officers to the Lancashire Constabulary family. They have been through a rigorous selection and training programme and I am immensely proud of what they have achieved so far and I look forward to following their careers as they help and protect the communities of Lancashire.
Find out more about becoming a Police Officer here.