Custody Detention Officer
Custody Detention Officer
Applications are currently closed. Sign up to job alerts to be the first to find out when recruitment will open.
The main role of a Custody Detention Officer (CDO) is to ensure the dignity and welfare of those the police have arrested and detained in one of our custody suites. Duties range from administration to taking DNA samples. CDOs perform a vital role in keeping everything running smoothly, ensuring the safety and well-being of detainees and visitors.
Working with police and custody sergeants, CDOs are responsible for detainees from the moment they arrive at the police station – booking them in, logging their possessions, taking fingerprints and photographs and making sure they are secure in a cell.
They then check on detainees throughout their stay, ensuring their well-being until their release or transfer, taking them bedding, food and drink, making regular cell checks, and keeping cells clean. Cells can become messy if a detainee is intoxicated or becomes sick, so CDOs need to be prepared to clean the cell and be compassionate towards the detainee when this happens.
Other duties include answering phone calls, communicating with solicitors, and a whole host of other responsibilities. There really is no average day for a Custody Detention Officer.
CDOs start on a salary of £26,544 rising to £28,850 (inclusive of shift + weekend allowances) and are assigned to one of our six custody suites in Blackburn, Blackpool, Burnley, Lancaster, Preston and Skelmersdale. However the flexibility to work at any of these locations to meet demand is essential, therefore, a full driving licence and access to a vehicle is essential.
Each shift you will work 10 hours with a shift pattern that consists of 2 early shifts (start at 7am and finish at 5pm), 2 late shifts (start between 3pm – 4pm and finish between 1am – 3am), 2 night shifts (start at 9pm and finish at 7am ) followed by 4 consecutive days off (rest days). You will receive your 3 month shift pattern upon starting.
Support for Underrepresented Groups
We offer support (Positive Action) to all under-represented groups. by providing advice and guidance before and during the selection process.
Most candidates who attend positive action support sessions will say that they benefited considerably. Having the opportunity to become familiar with policing processes increased their knowledge and gave them confidence to submit an application of a higher standard. Equally so, those who attend national assessment centre support sessions have a higher chance of success, than those from under-represented groups who don't.
This is a competitive process whereby sacrificing a small amount of your time, could be the difference between a pass or fail.
So, BEFORE you submit your application form, CONTACT US at [email protected]
See our Positive Action section at the bottom of the page for full information.
Entry Requirements
You need to be at least 18 years old and don't need to have any specific qualifications to apply.
You will also need to have a full driving licence and access to a vehicle as you may be expected to work at different custody suites (depending upon demand).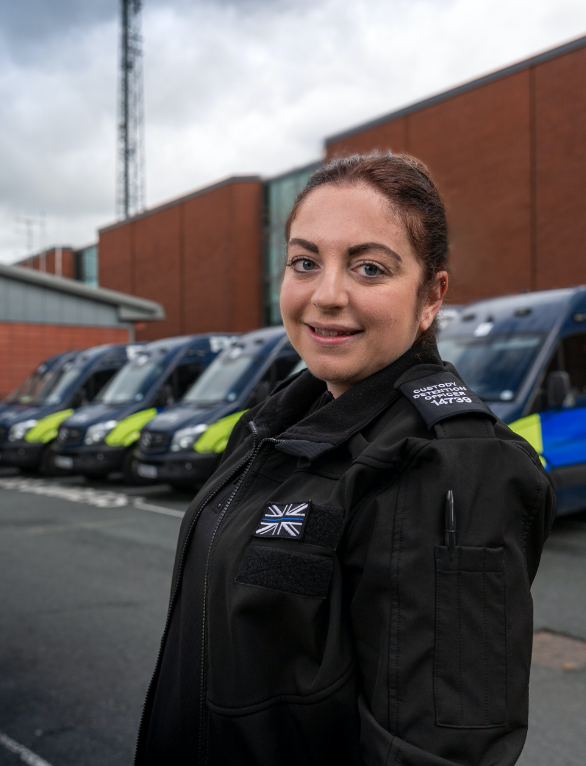 Lauren Nixon has worked at Lancashire Constabulary now for over three years, following one year as a Custody Detention Officer and two years as a Police Control Room Operator.
Life in the force runs in Lauren's family. Both of her parents were police officers and are proud that their daughter is following in their footsteps to serve the local community. She believes the key to being a great Custody Detention Officer is having great communication skills.
"You need to be able to adjust your communication methods accordingly and treat detainees with respect," she explained. "This role is to ensure the safety and well-being of everyone in custody."
Whilst the shift patterns can be difficult to get used to at first, Lauren says she has come to prefer them. "I really love working shifts now and could not go back to working a standard 9-5 role."
One of the best parts of my job is my team. It sounds like a cliché but it really feels like a work family. In addition to my team, I also work closely with police officers and other police staff. It is a very busy place to work with lots to do and every day is always different! If you think you could make a difference to people's lives and want to serve the communities of Lancashire then this could be the perfect job for you.
Mohammed Kamran came to Lancashire Police after working as a security officer in a court room and finds his role as a Custody Detention Officer extremely rewarding. Despite being relatively new to his position, Mohammed already knows it's the right career choice for him: "The best part of my job is not knowing what I will encounter as every day really is different. It is not a repetitive job and it's interesting."
As well as feeling fulfilled at work, working as a CDO fits in well with Mohammed's home commitments. He said: "I had never worked a shift pattern before, having had 9-5 jobs. It does take some getting used to at first but I am really enjoying it. The hours work out brilliantly with my family life."
If I could offer any advice to prospective applicants it would be to research the role, get an understanding of what is expected of you and go for it. I am really glad I applied and was successful in gaining this role. I have always wanted to make a difference in the community and get to do this every day. 
Lisa Margerison has been a Custody Detention Officer for over 16 years and can't see herself doing anything else – or being anywhere else. "One of the best things about working at Lancashire Constabulary is the team I work with," she said. "I like to think that I have the very best team!" Lisa especially enjoys the variety working as a CDO brings: "A unique perk of the job is that you never know what to expect on a day to day basis. It really does keep the role varied and interesting." An unexpected aspect of the position is that CDO's are not as stern as some might think. Lisa said: "I think that people will be mostly surprised with the level of empathy and care we give to all people that come into the custody suite." The shift patterns also provide a practical bonus: "I get lots of free time to myself and don't have to queue when doing my grocery shop! I definitely couldn't go back to working a 9-5 job!"
It is a challenging role where you need to utilise both communication and listening skills at all times. However if you are up for a new challenge and want to work with the very best then this just might be the perfect career for you.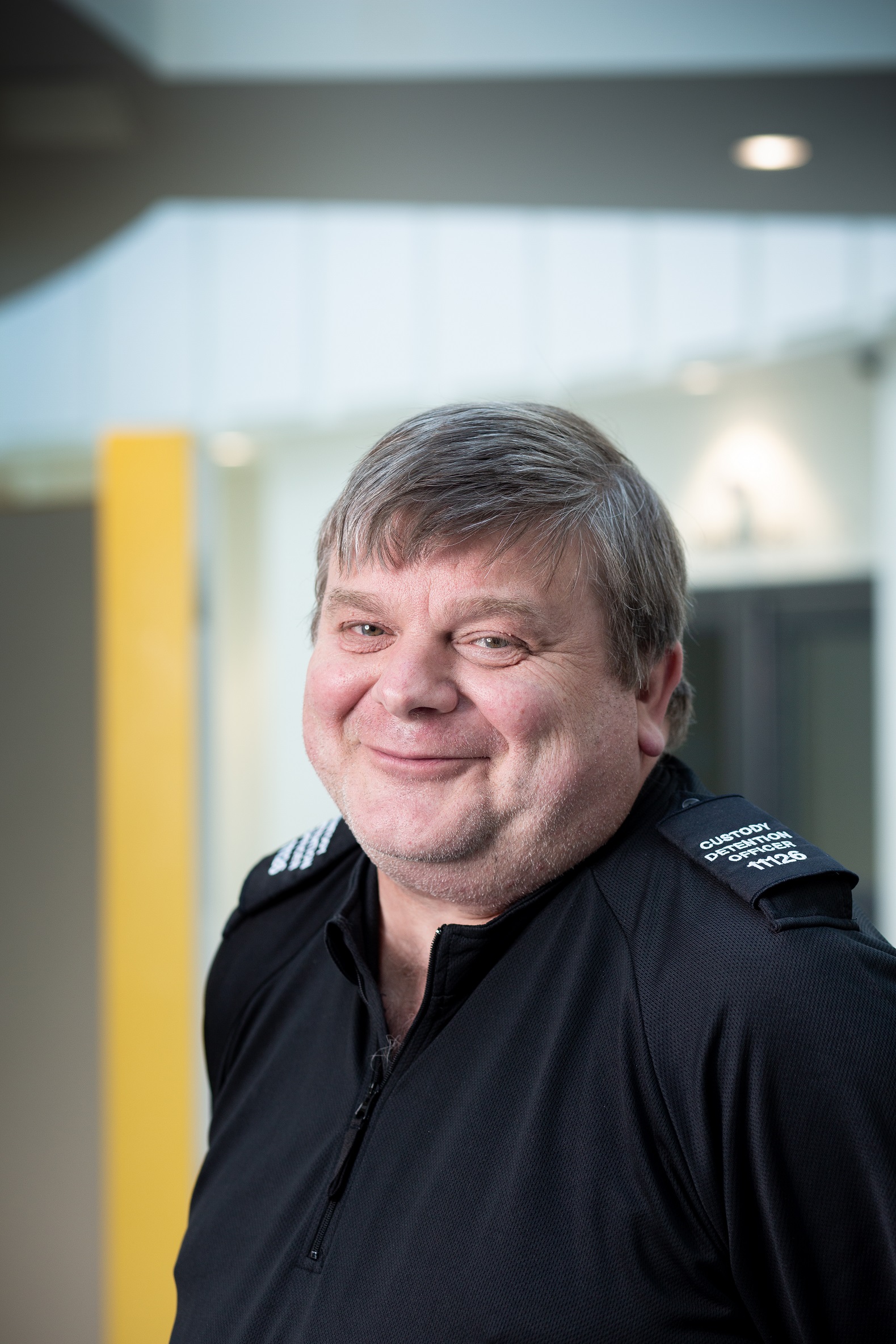 Nick was in his late 30s when he joined Lancashire Police as a Custody Detention officer in 2003. He quickly realised he'd found his niche and says he's here for the duration.
Based in Blackpool, Nick has previously covered shifts in Lancaster, Preston and Blackburn, and things have changed considerably during his 19-year career. He said: "There are high tech cameras everywhere now and the role involves a lot more responsibility, rules and regulations."
What hasn't changed is the life skills required to do a good job.
"I'm not academically gifted," Nick said. "But a degree won't calm someone down or teach you how to deal with detainees of all ages and backgrounds. What you need is empathy, sympathy and the ability to talk to people. As a CDO you could be dealing with someone in for murder one minute and the next it could be a 13-year-old boy for shoplifting. The youngest I've seen is 10 and the oldest 99.
"But whatever they've been arrested for I treat everybody the same, it's not my role to judge. I just look after them, do everything I can to keep them safe and try to chat with them. With the vast majority humour works, but if I'm concerned about them I go straight to the Liaison and Diversion team to ensure they are given the right support."
The shifts work well for Nick too, even with children aged 3 to 37: "We have a 10-week rota and I like knowing what I'm doing in advance."
It's not for the faint-hearted or squeamish and it's challenging – but also rewarding. I once received a Chief Superintendent's Commendation along with three colleagues and the Sergeant for saving someone's life after they had a heart attack in a cell. To anyone thinking of applying I would say go for it. I'm glad I did and have no regrets. I've met some wonderful people and the Constabulary looks after you well. I'll be here until I retire
Custody Detention Officer
Application Process
When applications are open, you are able to complete and submit your form online. You should look to include as much relevant experience, knowledge and skills as you can within the space provided. Where possible, you should do this using examples of where you have carried out similar responsibilities in your work. If you are unable to provide work examples, you may use instances from other aspects of your life, but be sure to keep them relevant. Try also to use only fairly recent examples, avoiding anything that seems old or outdated.

Simply referring to your skills and experience isn't always enough. Remember that the assessor does not know you or your capabilities, or how effectively you may perform on a daily basis. All they have to go on is what you say in your application. You, therefore, need to make sure you really sell yourself, taking every opportunity to fill in any potential gaps in the assessor's picture of you.

If you find that you don't have specific examples that will highlight your ability to do the job, do all you can to link the experience that you do have with the role you are applying for. You might also use other examples to indicate your willingness and ability to learn new skills or refresh old ones.

Make sure you read the application form carefully and provide full answers to all the questions. Sell yourself. The best way to structure your answers and to demonstrate clearly how you meet the criteria is by following the STAR format.

Set the scene

When and what is the example about? What was the scenario situation that you faced?

Task

What did you identify needed to be done? What were you tasked to do? What was your role?

Action/Approach

What did you do? Why? Were there options? Why did you select that particular course of action?

Result

How did it go? Was it successful? Why? With hindsight, would you have done things differently? If your example relates to a specific individual, please retain their anonymity to ensure compliance with data protection. You can find lots of information and examples on the internet about how to structure a STAR answer for an application form.
Once we receive your completed form, we will check it against our standard recruitment criteria – e.g. convictions and nationality. If you are eligible to work for Lancashire Constabulary, your application will move on to the next stage.

Following the initial sift your application will be assessed by the department to which you are applying. They will check and score your evidence against the criteria as detailed on the candidate specification. If your application is unsuccessful at this stage, we will contact you by email to let you know.
At this stage, you will be invited to attend an interview. This could be face to face or online via Skype. If your application passes the initial stages we will contact you to arrange an interview. The interview questions will be based around the same criteria as detailed on the candidate specification and will seek to find out how you would perform in the job in question. We would also suggest visiting another section of our website for information on our values and force priorities.



If you are successful at interview, we will send you a conditional offer of employment together with details of the next steps. This offer will be subject to security, health and reference checks.

A Health Declaration form will be sent to you for completion which our Health Services team will screen. It is imperative that you complete the form accurately and do not withhold any information. In some cases, they may need further information (for example from GPs or specialists) and you will be medically pended while this is being obtained. The Equality Act 2010 covers all positions in Lancashire Constabulary. If you have a disability, adjustments will be made if it is reasonable to do so.

During this process, you will be required to undertake a Substance Misuse Test and for some specific roles, you also have to provide a DNA sample (mouth swab) and have your fingerprints taken.
Before anyone joins Lancashire Constabulary we need to undertake a series of vetting checks to help identify and assess any identified risks.  To help us do this we ask you to complete a detailed vetting form which asks for details of your family members and any criminal associates.  You must let  anyone whose details you have provided know that they will be looked into as part of your pre-employment checks. Legislative constraints mean that we're unable to disclose the results of enquiries on third parties.
Criminal Convictions
If you have convictions or cautions this doesn't necessarily mean that we won't be able to appoint you. It depends on the role you've applied for and the nature of the offence. Under the Rehabilitation of Offenders Act 1974 all police staff applicants have to declare previous convictions and cautions which would ordinarily be considered 'spent'.
However, the Rehabilitation of Offenders Act 1974 (Exemptions) Order 1975, provides that if you're applying for a police staff role you do NOT have to declare any information in relation to a PROTECTED caution or a PROTECTED conviction.
A protected conviction is one where ALL the following applies:
It is not for a 'listed offence'* under Article 2A(5) of the Rehabilitation of Offenders Act 1974 (Exceptions) Order 1975
No custodial sentence was imposed
The individual has not been convicted of any other offence at any time
11 years or more have passed since the conviction, if the individual was aged 18 or over at the time of conviction, or 51/2 years or more have passed since the conviction if the individual was under 18 at the time ¬¬of the conviction.
A protected caution is one where ALL the following applies:
It is not for a 'listed offence' * under Article 2A(5) of the Rehabilitation of Offenders Act 1974 (Exceptions) Order 1975;
6 years or more have passed since the caution, if the individual was aged 18 years or over at the time the caution was given, or 2 years or more have passed since the caution if the individual was under 18 at the time the caution was given.
* Listed offences include serious, violent and sexual offences and offences that are of specific relevance to the safeguarding of children and vulnerable adults, and will never be filtered or protected. There is a a list of offences which will never be filtered or protected.
As an applicant, you are responsible for understanding if you have a protected caution or conviction and to complete the vetting form correctly. If in doubt, contact our vetting unit for advice.
Lancashire Constabulary apply the criminal convictions guidance contained in the College of Policing Vetting Code of Practice and associated Authorised Professional Practice (APP) to all police staff applications and will reject applications in all cases where: 
offences were committed as an adult or juvenile that resulted in a prison sentence (including custodial, suspended or deferred sentence and sentences served at a young offenders' institution or community home);
the applicant is, or has been, a registered sex offender or is subject to a registration requirement in respect of any other conviction.
For all other convictions or cautions we will reject applications where any of the following apply:
offences where vulnerable people were targeted
offences motivated by hate or discrimination
offences of domestic abuse
We take particular care where an applicant has been convicted of (or cautioned for) offences of dishonesty, corrupt practice or violence, which will also likely result in rejection.
We consider each case on its own merits and, whilst you should presume convictions, cautions or other sanctions will lead to your application being rejected, there may be occasions where this will not be the case. 
There may also be circumstances where your suspected involvement in crime, or criminal associations make an offer of employment inappropriate. 
Financial Status
We run a credit reference check on all applicants. Police staff have access to privileged and highly sensitive information, which may make them vulnerable to corruption, so it's important for us to understand applicants' financial situation. Applicants to the police service should normally be free from serious debt or liability and be able to manage existing loans. We place our emphasis on managing debt sensibly.
If you have existing County Court Judgement's outstanding or have been registered as bankrupt and have not discharged your bankruptcy we'll be unable to consider your application. If you have been registered as bankrupt and have discharged their bankruptcy debts you won't be considered until three years after your discharge of the debt. Debt Relief Orders (DRO) are treated in the same way as bankruptcy.
We will consider your application carefully if a credit reference check reveals you have a current individual voluntary arrangement (IVA). We don't make clearance decisions until we've seen evidence that you've maintained regular IVA repayments over a number of months and taking into consideration also the size of the debt. The same principle applies where you have defaulted on accounts.
If you can show you have and are adhering to debt management arrangements you may be considered. We'll need to see documentary evidence to demonstrate your commitment and adherence to any debt management arrangements and will consider each case on its own merits.
Open Source Checks – We will check content on publicly available social media sites.
Vetting Decisions – If your vetting is successful, our vetting unit will let the recruiting department know. If your clearance is declined our vetting unit will notify you personally and provide as much information as we can as to the reason. There may be occasions where we are unable to provide a detailed explanation.  There is an appeal process available.
After all of the above has taken place you will be given a formal offer of employment and you discuss start dates for your exciting new career!