Police Control Room Operator
Applications are closed and will re-open again later in 2023. To be the first to find out when, sign up to job alerts below.
Being a Police Control Room Operator (PCRO) is more than just answering calls, it's about obtaining and providing accurate information to ensure the right decisions are made to help and keep people safe.
PCROs are predominantly the first point of contact for members of the public wishing to speak to the police. Covering the whole of Lancashire, PCROs deal with all emergency (999) and non-emergency calls (101), identifying risk, threat and vulnerability and grading the incident correctly.
PCROs use a wide variety of systems to be able document incidents quickly and accurately, therefore computer/typing skills are essential. Additionally, you will progress with further training to be a radio dispatcher where you will liaise with officers about live incidents and assign them to attend the scene.
On a typical day, we receive around 800 emergency calls and over 2,200 non-emergency calls. Each call is dealt with on its own merits according to the needs of the caller who may be vulnerable or distressed. On one call you could be dealing with a victim of a serious assault, then providing support to someone reporting a family member missing on the next.
As a PCRO at Lancashire Constabulary you'll benefit from:
Working for a top-rated force
Choice of shift patterns including full and part-time hours
Generous local government pension scheme
24 days annual leave + 8 days bank holiday*
Focus on health and wellbeing
Free onsite parking
Free gym and access to sports clubs
State of the art contact centre
Be valued for the work you do
MAKE A REAL DIFFERENCE TO PEOPLES LIVES
*Based on working a full-time rota and inclusive of shift allowances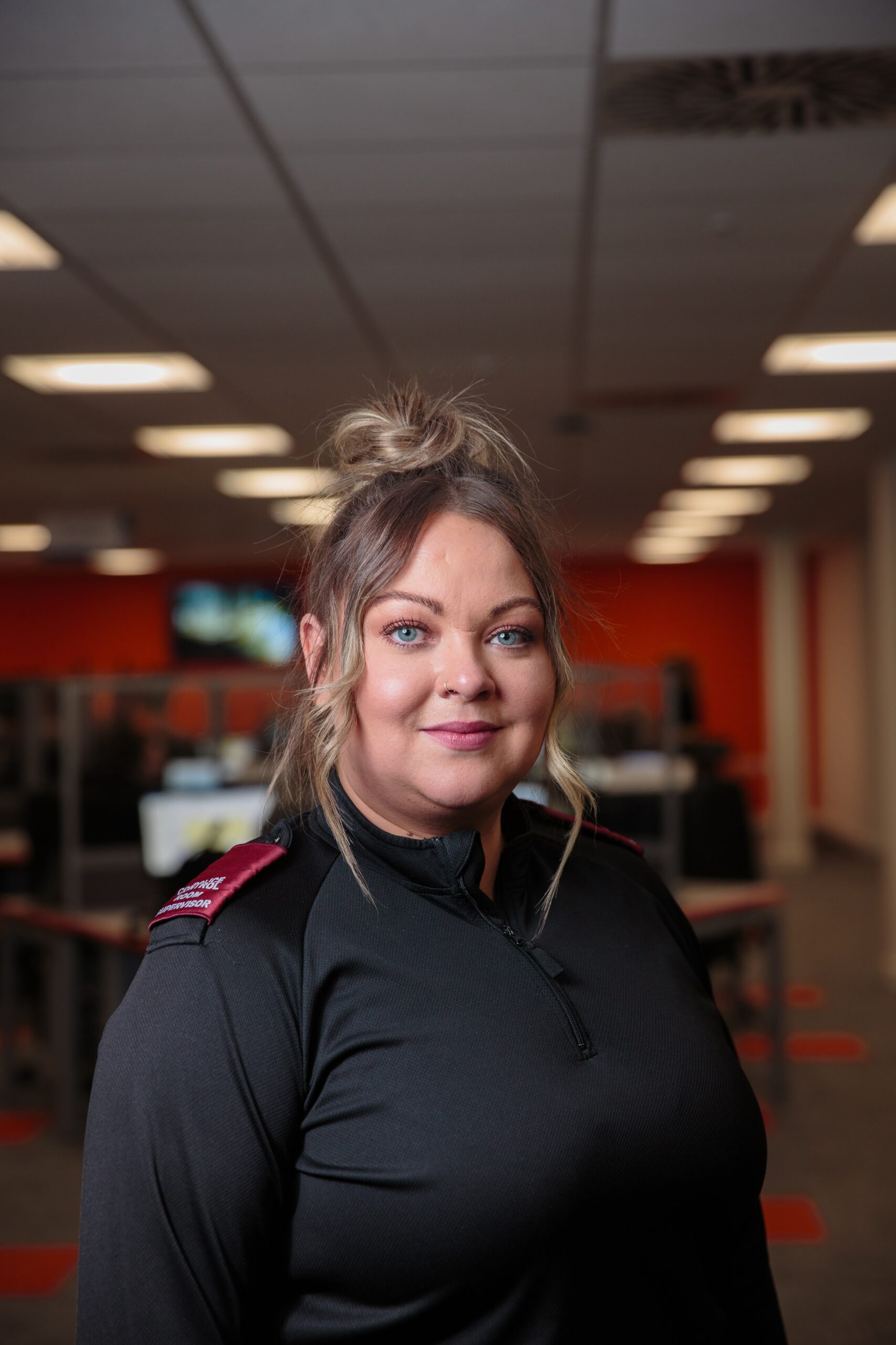 Charlie has worked as a PCRO for 7 years having previously worked for Lancashire County Council.  Charlie commented "I chose to apply to become a PCRO after looking for a secure career move that offers great variety.  That is certainly something that I have now and couldn't be happier.  One thing that I hadn't anticipated was how answering emergency calls can give a huge adrenaline rush, it can at times feel quite exciting".
"There are a couple of stand out great things about my role and they are going home after my shift knowing that I have made a difference to peoples lives and my team.  The team I work with have shared values in that they also love to help people and it can feel like working with a second family here" she said.
I love my job and coming in to work  My advice to those who want to apply to join us is you will really need to have good empathy, understanding and be able to offer outstanding customer service to every caller.
"Every day is a different day and that's the exciting part about being a PCRO," said Andrew Kearsley, even though he has worked as a Police Control Room Operator at Lancashire Police for over 14 years now.

"I take 999 calls, non-emergency calls and dispatch Police Officers to incidents. I can come into work and have a serious incident taking place and really get involved with the officers, helping them get the job done. I also mentor new starters when they join the team. We also run special operations including football matches, firearms incidents, police warrants and royal family visits – they are quite interesting to be a part of."

The job has even seen Andrew on television: "A number of years ago Lancashire Police featured on the TV programme '999: What's Your Emergency?' I had the odd spot on it and my family all contacted me saying how proud they were."

The variety of calls a PCRO encounters was quite surprising to me when I began my career here. I deal with incidents from a lost child to someone feeling suicidal. We are a resilient bunch and even though I hear really challenging calls on a daily basis I always finish the day with a smile.  If anyone is considering applying to become a PCRO I would say you definitely need to be resilient and a good communicator, it's key in this job. It is a demanding but very rewarding career.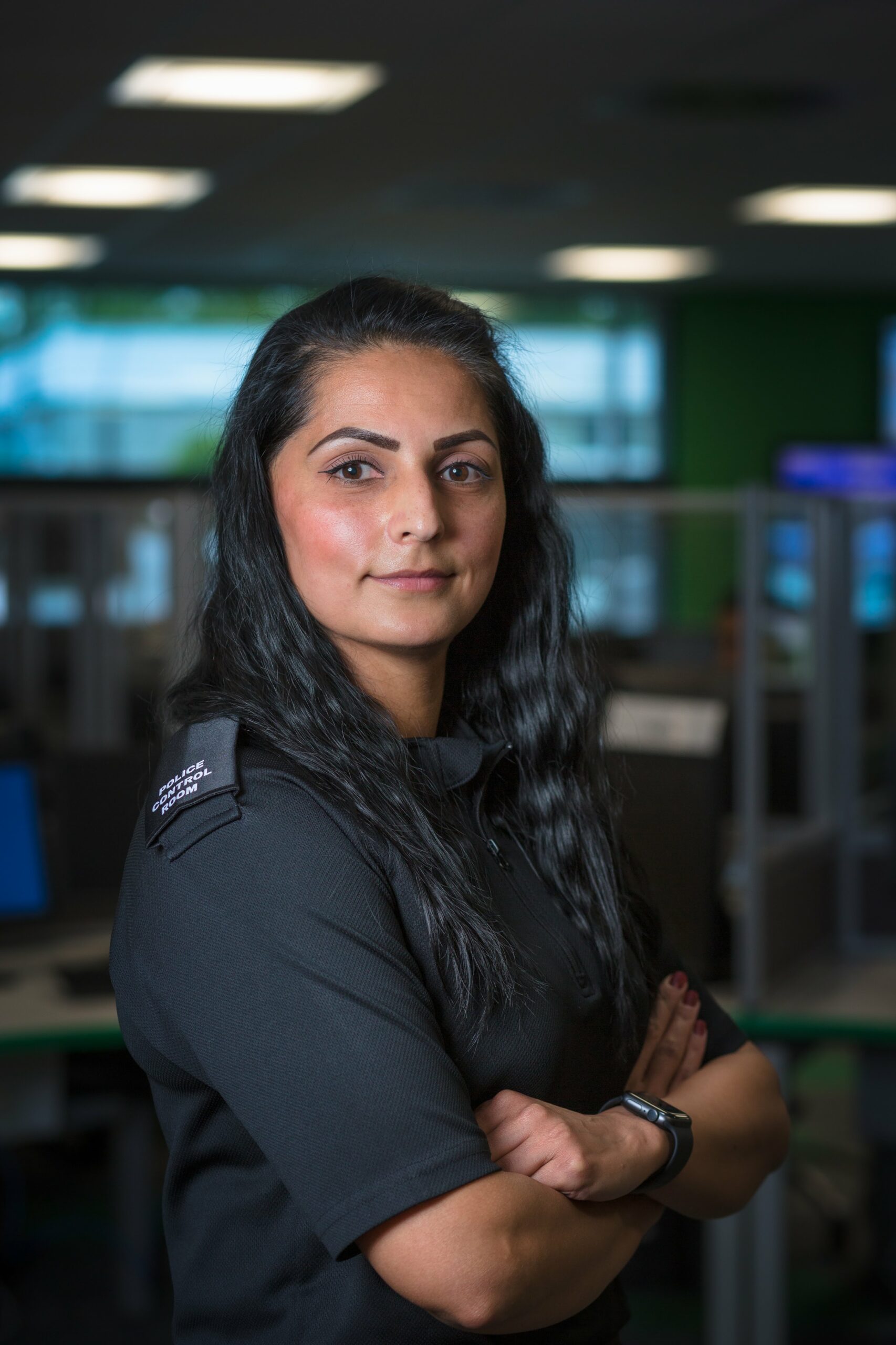 Before joining Lancashire Police as a PCRO,  Nasra worked as a fitness instructor for 5 years and prior to that, worked as a 999 call operator at BT (Fun fact – BT handle the all initial 999 calls before passing them on to the relevant emergency service). "From my time working at BT, I was always curious as to what happened to the people on the calls and wanted to work helping the people on the other end of the phone" said Nasra. 
In the short time that Nasra has been in post, she has fulfilled her ambition of helping people.  "When I initially applied to be a PCRO I knew that I wanted to be a core part of helping people in need and I can honestly say that this is the best part about my job.  When I answer an emergency call, my training kicks in and I know I have the skills to be a core part of helping someone in need.  The most memorable call for me so far has been helping a female in distress who had suicidal thoughts.  I spent time talking and listening to her whilst we deployed assistance to her".
I really enjoy the shift pattern and having 4 consecutive days off is brilliant, I do have to be very organised to fit my role into my family life but that suits me as I am naturally an organised person.  Not knowing what call could be next can be challenging but it definitely keeps the role interesting and never, ever boring!
"My first 999 call was from a victim being threatened with a firearm," recalled Nadia Macrae. "Due to the serious nature of this incident it was escalated to a number of departments and senior staff members."

As a former travel agent this was a totally different type of call for Nadia, but it didn't faze her. "My training kicked in and I was confident I had done everything needed to ensure the safety of the caller" she said. "Something that has surprised me about this role is how much intelligence gathering there is, and the level of responsibility I have when deciding what happens next when a call comes into the control room."

Adjusting to the PCRO shift pattern wasn't easy at first – but now Nadia is feeling the benefits: "You receive a 52-week rota when you start so you can really plan your year ahead. In fact I feel that being able to spend time off during the day in the winter months with friends, family and walking my dog has only improved my quality of life."

I was looking for a career which made a real difference to people's lives. A friend recommended that I apply for this role and I am so glad they did! There is a great deal of support during the training period and I am really enjoying meeting and working with new people. If I could give one piece of advice to someone considering applying for this role it is to just go for it! As long as you have a genuine desire to help people then this could be a great role for you.
"After working for the council for ten years, I wanted a career which was more fast-paced and exciting," said Azhar Qadir. "After hearing from a friend that Lancashire Police were recruiting for Police Control Room Operators, I knew it could provide me with the buzz I was looking for."

Three years on Azhar is happy to report that the job has met his expectations. Dealing with the different types of calls was a challenge at first, but with the help of colleagues and team leaders, Azhar soon got to grips with it: "Within a short space of time I was able to develop the confidence and knowledge to know how to deal with certain enquiries, i.e. whether they required deployment or could be dealt with over the phone. 
"One of the calls which stands out most for me is a 999 call I received from a man who was the same age as me who had mental health issues and felt suicidal. I spoke to him for over two hours and managed to convince him to disclose his location so we could get him the help he needed. It really does feel great to make a life-changing difference to people."

The best thing about working in the control room is being part of a team. Everyone is willing to help and support each other. There are a lot of fun personalities in the room which makes the job enjoyable. It truly does feel like a 'work family' in my department. I am part of a team who all support each other and all genuinely enjoy their jobs which makes it a great place to work. 
Support for Underrepresented Groups
We offer support (Positive Action) to all under-represented groups. by providing advice and guidance before and during the selection process.
Most candidates who attend positive action support sessions will say that they benefited considerably. Having the opportunity to become familiar with policing processes increased their knowledge and gave them confidence to submit an application of a higher standard. Equally so, those who attend national assessment centre support sessions have a higher chance of success, than those from under-represented groups who don't.
This is a competitive process whereby sacrificing a small amount of your time, could be the difference between a pass or fail.
So, BEFORE you submit your application form, CONTACT US at [email protected]
See our Positive Action section at the bottom of the page for full information.
Police Control Room Operator
Application Process
The application process has been updated and now require you to submit a CV instead of a full competency-based question style application. 
Please make sure your CV details your qualifications, experience of customer service and if you have any call centre experience.      
Once we receive your completed form, we will check it against our standard recruitment criteria – e.g. convictions and nationality. If you are eligible to work for Lancashire Constabulary, your application will move on to the next stage. 
If your application is unsuccessful at this stage, we will contact you by email to let you know.
If successful at shortlisting, you will be invited to one of our Selection Days.
The selection day will take place n Friday 18th August 2023 at Headquarters near Hutton and will run for 3 hours.
At the session you will undertake group exercises, written exercises, a typing exercise and role play exercises. Further details will be shared for those candidates invited to attend following shortlisting.

As a disability confident employer, reasonable adjustments will be considered for those candidates who require adjustments to undertake the selection days.
If you are successful at interview, we will send you a conditional offer of employment together with details of the next steps. This offer will be subject to security, health and reference checks.
A Health Declaration form will be sent to you for completion which our Health Services team will screen. It is imperative that you complete the form accurately and do not withhold any information. In some cases they may need further information (for example from GPs or specialists) and you will be medically pended while this is being obtained. The Equality Act 2010 covers all positions in Lancashire Constabulary . If you have a disability, adjustments will be made if it is reasonable to do so.
During this process you will be required to undertake a Substance Misuse Test and for some specific roles you also have to provide a DNA sample (mouth swab) and have your fingerprints taken.
Before anyone joins Lancashire Constabulary we need to undertake a series of vetting checks to help identify and assess any identified risks.  To help us do this we ask you to complete a detailed vetting form which asks for details of your family members and any criminal associates.  You must let  anyone whose details you have provided know that they will be looked into as part of your pre-employment checks. Legislative constraints mean that we're unable to disclose the results of enquiries on third parties.
Criminal Convictions
If you have convictions or cautions this doesn't necessarily mean that we won't be able to appoint you. It depends on the role you've applied for and the nature of the offence. Under the Rehabilitation of Offenders Act 1974 all police staff applicants have to declare previous convictions and cautions which would ordinarily be considered 'spent'.
However, the Rehabilitation of Offenders Act 1974 (Exemptions) Order 1975, provides that if you're applying for a police staff role you do NOT have to declare any information in relation to a PROTECTED caution or a PROTECTED conviction.
A protected conviction is one where ALL the following applies:
It is not for a 'listed offence'* under Article 2A(5) of the Rehabilitation of Offenders Act 1974 (Exceptions) Order 1975
No custodial sentence was imposed
The individual has not been convicted of any other offence at any time
11 years or more have passed since the conviction, if the individual was aged 18 or over at the time of conviction, or 51/2 years or more have passed since the conviction if the individual was under 18 at the time ¬¬of the conviction.
A protected caution is one where ALL the following applies:
It is not for a 'listed offence' * under Article 2A(5) of the Rehabilitation of Offenders Act 1974 (Exceptions) Order 1975;
6 years or more have passed since the caution, if the individual was aged 18 years or over at the time the caution was given, or 2 years or more have passed since the caution if the individual was under 18 at the time the caution was given.
* Listed offences include serious, violent and sexual offences and offences that are of specific relevance to the safeguarding of children and vulnerable adults, and will never be filtered or protected. There is a a list of offences which will never be filtered or protected.
As an applicant, you are responsible for understanding if you have a protected caution or conviction and to complete the vetting form correctly. If in doubt, contact our vetting unit for advice.
Lancashire Constabulary apply the criminal convictions guidance contained in the College of Policing Vetting Code of Practice and associated Authorised Professional Practice (APP) to all police staff applications and will reject applications in all cases where: 
offences were committed as an adult or juvenile that resulted in a prison sentence (including custodial, suspended or deferred sentence and sentences served at a young offenders' institution or community home);
the applicant is, or has been, a registered sex offender or is subject to a registration requirement in respect of any other conviction.
For all other convictions or cautions we will reject applications where any of the following apply:
offences where vulnerable people were targeted
offences motivated by hate or discrimination
offences of domestic abuse
We take particular care where an applicant has been convicted of (or cautioned for) offences of dishonesty, corrupt practice or violence, which will also likely result in rejection.
We consider each case on its own merits and, whilst you should presume convictions, cautions or other sanctions will lead to your application being rejected, there may be occasions where this will not be the case. 
There may also be circumstances where your suspected involvement in crime, or criminal associations make an offer of employment inappropriate. 
Financial Status
We run a credit reference check on all applicants. Police staff have access to privileged and highly sensitive information, which may make them vulnerable to corruption, so it's important for us to understand applicants' financial situation. Applicants to the police service should normally be free from serious debt or liability and be able to manage existing loans. We place our emphasis on managing debt sensibly.
If you have existing County Court Judgement's outstanding or have been registered as bankrupt and have not discharged your bankruptcy we'll be unable to consider your application. If you have been registered as bankrupt and have discharged their bankruptcy debts you won't be considered until three years after your discharge of the debt. Debt Relief Orders (DRO) are treated in the same way as bankruptcy.
We will consider your application carefully if a credit reference check reveals you have a current individual voluntary arrangement (IVA). We don't make clearance decisions until we've seen evidence that you've maintained regular IVA repayments over a number of months and taking into consideration also the size of the debt. The same principle applies where you have defaulted on accounts.
If you can show you have and are adhering to debt management arrangements you may be considered. We'll need to see documentary evidence to demonstrate your commitment and adherence to any debt management arrangements and will consider each case on its own merits.
Open Source Checks – We will check content on publicly available social media sites.
Vetting Decisions – If your vetting is successful, our vetting unit will let the recruiting department know. If your clearance is declined our vetting unit will notify you personally and provide as much information as we can as to the reason. There may be occasions where we are unable to provide a detailed explanation.  There is an appeal process available.
After all of the above has taken place you will be given a formal offer of employment and you discuss start dates for your exciting new career!