Transferee Police Officer
Transferee Police Officer
We are always interested in hearing from serving officers who would like to transfer to join us here at Lancashire. If you would like to ask a specific question about your area of expertise, please email [email protected] and a member of our HR Team will contact you.
Transferees joining us from other forces can look forward to a typically warm Lancashire welcome. Our constabulary is a large, inclusive, friendly and forward-thinking organisation in a wonderfully diverse location, where our staff come from a variety of backgrounds, cultures and industries.
We are keen to hear from every discipline up to Inspector rank and we aim to match specialisms so you can continue to work in your field of choice. All transferees will benefit from a multitude of career opportunities and continued professional development.
Members of the Lancashire Police team have joined us from all over the country, and we regularly receive feedback regarding how supported they feel, especially when it comes to leadership, wellbeing and work-life balance. For many, it has renewed their love and enthusiasm for working for the police and opened new doors for promotion.
Transferees to Lancashire Police will quickly become part of the team, enjoying the fantastic culture here with plenty of opportunities to succeed.
Support for Underrepresented Groups
We offer support (Positive Action) for underrepresented groups (black and minority ethnicities, by providing advice and guidance before and during the selection process.
Most candidates who attend positive action support sessions will say that they benefited considerably. Having the opportunity to become familiar with policing processes increased their knowledge and gave them confidence to submit an application of a higher standard. Equally so, those who attend national assessment centre support sessions have a higher chance of success, than those from under-represented groups who don't.
This is a competitive process whereby sacrificing a small amount of your time, could be the difference between a pass or fail.
So, BEFORE you submit your application form, CONTACT US at [email protected]
See our Positive Action section at the bottom of the page for full information.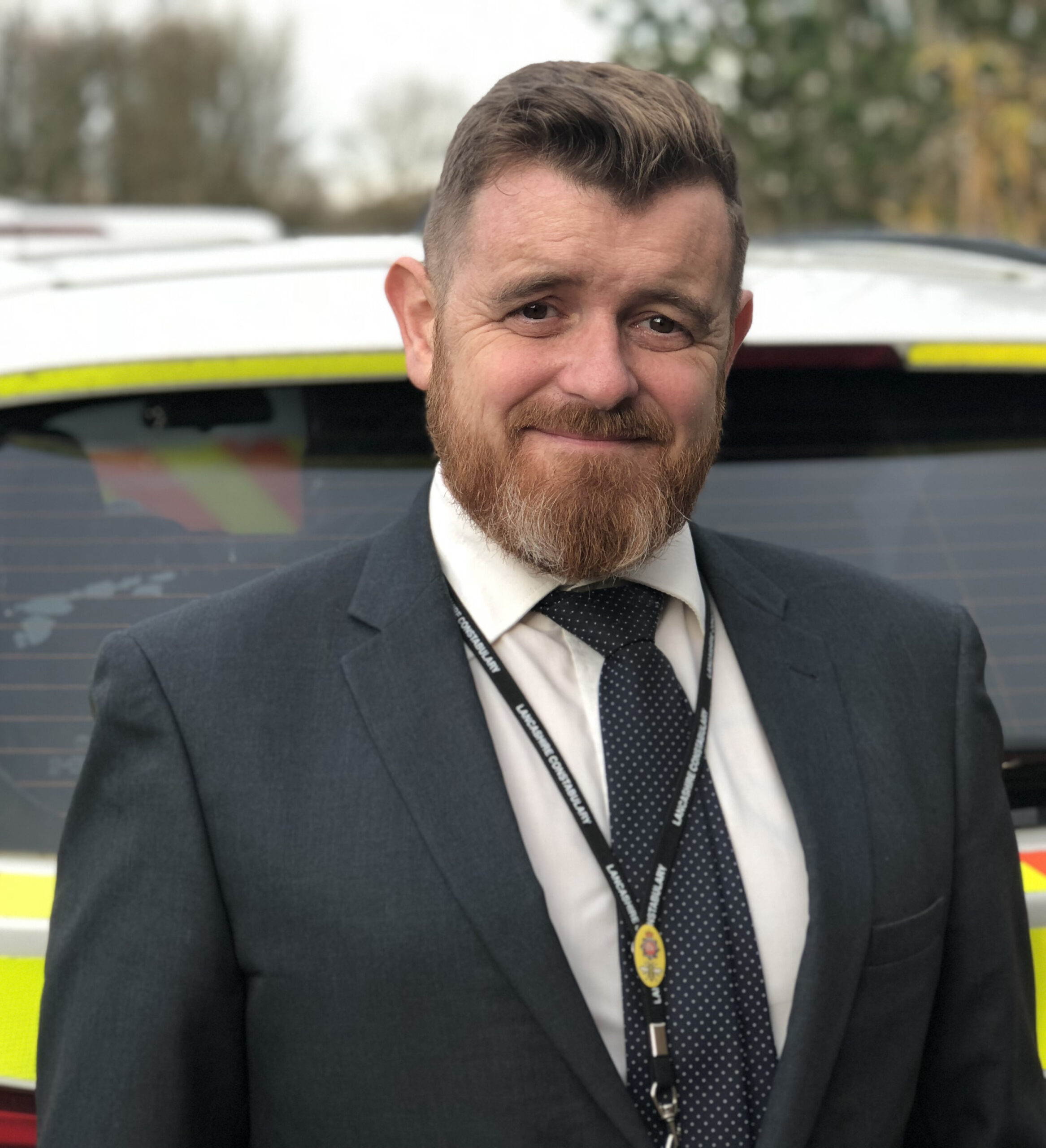 Detective Sergeant Craig Charnock originally came to Lancashire Police as a Detective Constable, but has quickly made progress since he joined us. "Very early on I was recognised for my skills and experience and gained a new role as a DS looking after Safeguarding in my Division.  I have since passed an interview to take up a role as a DS in FMIT"
Craig has now been with Lancashire Police for over 2 years and reports the move has improved both his personal and professional life: "I worked for another force for 16 years and felt like I wanted to have the opportunity for better promotion prospects. As a bonus, I now have a ten-minute commute into work which has had a massive impact on my work/life balance."
One thing that has really stood out for me is the level of support I have received from day one. Within the first week the Chief Constable, Andy Rhodes, attended part of the Transferee training course, which was really unexpected, and in my new Division the Superintendent scheduled a meet and greet. I feel that more time is invested in people here and felt instantly connected with my new colleagues. For those considering transferring from another force, I would say that if you want to push yourself and do well in your career then you will benefit from the supportive culture here at Lancashire Police. 
Sergeant Jackie Whittle joined Lancashire Police in 2020 after serving over 22 years at another force.  Upon arrival, Jackie has quickly made an impact and has brought with her a wealth of operational experience.  "The people are absolutely fantastic here and I feel really valued for the operational experience I bring to the team.
I initially looked for a change of force as I wanted better opportunities for promotion and know that at Lancashire, the opportunities for promotion are very high. I have since been offered temporary opportunities to work as an Inspector until promotion becomes available. As a secondary factor, I knew that well-being is a top priority and having spoken to other Transferees who spoke highly of this, I knew I was making the right decision."
Sometimes the fear of change can stop you from making big decisions, like transferring to another force, but I can honestly say I absolutely have no regrets moving here. An added bonus is my work life balance has dramatically improved too. My advice to anyone considering transferring to Lancashire is to take the leap of faith, the difference it has made for me and my family is huge!
PC John Gregory transferred to Lancashire Police after 15 years with Greater Manchester Police and discovered it was exactly the right fit for him, especially when it comes to wellbeing and being well-prepared. John said: "Wellbeing is hugely important to me and with the Chief Constable being the Lead on Wellbeing throughout all of the forces I knew that the ethos at Lancashire would truly encompass prioritising wellbeing amongst all staff. I have found at Lancashire that you have access to the right tools for the job – the kit is amazing here. I know I have made the right decision transferring to Lancashire Police."
I have found that the people are open and honest and really friendly. There is a genuine open dialogue whereby all opinions and views are sought from all officers and staff. There's a feeling that all voices are heard and considered which makes a refreshing change. I honestly feel like I am working with the best of the best here at Lancashire Police and my advice to anyone considering transferring is just do it!
Wyre Neighbourhood Policing Inspector Kevin Lister joined Lancashire Police in May 2019 after 27 years with another regional force, moving on to his current role after a year on response. He was looking for a better work life balance and wanted to spend more time with his family. Moving to a new constabulary after such a long time was a big change but one which has resulted in huge benefits, bringing Kevin closer to work as well as home. "This has really paid off for me both in time and money. I now save over £200 per month in fuel costs due to my shorter commute to work and can even cycle into work now which is great," he explained.
"I had the opportunity to express an interest in which shift pattern would fit in with my family commitments. I have been very impressed with how my move to Lancashire Police has been managed."
Sometimes you don't realise you need a change until you make one. The leadership style at Lancashire Police makes me feel much more supported when making decisions, which makes a refreshing change from my previous force.

If you are considering transferring to another force I would definitely recommend Lancashire Police, I am very happy to have made the move here. 
Transferee Police Officer
Application Process
You will need to complete the much shorter application form which consists of a handful of questions.  
Once we receive your completed form, we will check it against our standard recruitment criteria and eligibility.
To be eligible to transfer to Lancashire Police, you will;
Be currently serving in a recognised Home Office police force

Have successfully completed your probationary period

Have an acceptable performance, attendance and disciplinary record
This will only apply to certain specialist roles and you will be notified if this applies to the role you applied for.
At this stage you will be invited to attend an interview.  This could be face to face or online via Skype.
If your application passes the initial stages we will contact you to arrange an interview. The interview questions will be based around the same criteria as detailed on the candidate specification and will seek to find out how you would perform in the job in question.  We would also suggest visiting other section of our website for information on our values and force priorities. 
Sometimes you may be asked to prepare a presentation at your interview (you will be notified of this with your interview invitation).
If you are successful at interview, we will send you a conditional offer of employment together with details of the next steps. This offer will be subject to security, health and reference checks.
Police officers encounter stressful situations, trauma, physical confrontation and work long hours on shifts. You'll need to be resilient enough to cope with the demands and pressures of police working and be in good health mentally and physically.
After passing the recruitment stages, you'll need to complete a medical questionnaire and get it signed by your doctor. You'll then have a medical examination to ensure you meet our BMI and health standards.
Your BMI must be between 18 and 30. You'll also be asked to provide a urine sample whilst at your appointment, which we'll test for illegal substances.
We follow the Government's guidance on police health officer requirements. You can find out more about these and check the list of specific health conditions.
If you are successful at interview, we will send you a conditional offer of employment together with details of the next steps. This offer will be subject to security, health and reference checks.
View our detailed FAQ's surrounding medical conditions before you complete your application form to understand any limitations there might be.
As a summary though;
Police officers encounter stressful situations, trauma, physical confrontation and work long hours on shifts. You'll need to be resilient enough to cope with the demands and pressures of police working and be in good health mentally and physically.
After passing the recruitment stages, you'll need to complete a medical questionnaire and get it signed by your doctor. You'll then have a medical examination to ensure you meet our BMI and health standards.
Your BMI must be between 19 and 30. You'll also be asked to provide a urine sample whilst at your appointment, which we'll test for illegal substances.
We will test your hearing to ensure it meets home office standards.
We follow the Government's guidance on police officer health requirements. You can find out more about these and check the list of specific health conditions.
 Biometric Vetting
After your medical appointment, you will also be required to have your fingerprints scanned and a DNA sample (mouth swab) taken to check against the national police database.
Eye Sight
You must have:
Corrected distance vision of 6/12 or better with either the right eye or left eye.
6/6 vision with both eyes together with spectacles or contact lenses if worn.
Corrected near visual acuity of 6/9 or better, with both eyes.
You'll need to go to an optician at the medical stage to have your eyes tested and this will be checked at your medical assessment. If you don't meet the standard we'll be unable to take your application any further. Please note that these are minimum standards and do not guarantee entry into specialist roles.  You can wear glasses and contact lenses.
Information about colour blindness
If your colour blindness is monochromat, you will not meet the eyesight standard. However, trichromats and dichromats are acceptable.
Fitness
When it's time to complete your fitness test we'll invite you to our headquarters at Hutton, Preston.
Use the information below to help you to prepare for the fitness test. If you're new to fitness training or are a beginner we recommend that you seek medical advice prior to commencing any exercise programme.
The test we use is the multi-stage endurance test (also known as the bleep test, shuttle run or pacer test). It's a well-recognised test that gives a clear understanding of fitness level and one that you can practice prior to the assessment to give yourself the best possible chance of success.
If you don't reach the required level, you won't be able to proceed to the next stage. But, our assessor may give you the opportunity to try again.
If, after three attempts you haven't been able to pass then you'll need to wait 6 months before re-applying.
Bleep Test
The fitness test is part of police life. You'll retake it as part of your training and also take the test every year to ensure you're maintaining a suitable level of fitness for a service officer.
The multi-stage endurance fitness test is one of the most widely used tests of endurance. It's also easy to prepare for as all you'll need is a flat level surface that's 15 metres long and you can use our training recording or look on iTunes or Google Play for a bleep test training app. If using an app for your practice, ensure it is for 15 metres as some are for 20 metre runs.
What to Expect at the Bleep Test
 The test involves running back and forth in a straight line continuously along a 15 metre track. Every time you reach the edge you'll place your foot on the line and turn, ready for the next bleep when you'll set off again.
The test is progressive in that the bleeps start off slowly but become closer together so as the test progresses you'll need to run faster to reach the edge before the next bleep.
The first running speed is 'level 1', the second is 'level 2' and so on. Each level lasts around 50 seconds, but the number of shuttles at each level increases as the test progresses.
At the end of each level you'll hear a double bleep and the fitness tester will announce that you're starting a new level. You'll need to reach a 'level 5.4' rating to pass the test.
%MCEPASTEBIN%
Although you hold vetting clearance with your home force, if you apply to transfer to Lancashire we will re-vet you.
You'll need to meet the following:
Aged 17 or above on the day you apply and must be aged 18 or over upon appointment (we don't have an upper age limit and value the life experience that career changers bring).
Not be a member of the British National Party (BNP) or other organisations such as Combat 18 or The National Front.
If you have a criminal record, this doesn't mean you won't be considered. This depends on the nature of your conviction. Please declare any cautions or convictions on your application form. If you don't you could fail vetting due to integrity concerns.
Vetting clearance is unlikely to be granted if you have existing county court judgements (CCJ) outstanding against you.  If you have been registered bankrupt, clearance is unlikely until three years have passed since discharge of the debt.
Tattoos which are offensive, garish, prominent or numerous are not acceptable. Please supply photos and measurements of any tattoos along with your application.
You can re-attend our National Assessment Centre (NAC) if you failed the NAC within the last 3 months providing you were within 5% of the pass mark.  Otherwise you will need to wait 6 months between taking the NAC.
You must be a British Citizen, or hold a passport from a full EU Member State. You can also apply if you are a Commonwealth citizen or foreign national who is resident in the UK with indefinite leave to remain.
Residency Requirement
You must have lived in the UK for three continuous years, immediately before applying, to meet the minimum residency requirement. This is because we need to vet all applicants in an equitable manner, which requires a checkable history in the UK.  Applicants who cannot be vetted cannot be appointed.  
If you live permanently in the UK, you are considered to be a UK resident.  If you have moved overseas and severed major ties to the UK (e.g. closed bank accounts and sold property) you are considered to have surrendered your residency in the UK. This applies to people who maintain bank accounts purely for the purpose of receiving regular payments, e.g. a UK pension.
If you have spent a significant period of time overseas (normally up to one year) without returning to the UK but intend to return in the future, then we may be able to consider you.  This might apply, for example, if you have taken a gap year or similar before or following university, travelled for a year or spent time overseas visiting family (not an exhaustive list). We will need you to provide full details and will consider each case on its own merits.  
If you have been posted overseas as part of your service with HMG or the armed forces you are considered to have been resident in the UK for the period that you were abroad.
If you have been overseas as the spouse, partner or dependent of a member of the armed forces posted overseas then it may be possible to obtain the necessary assurance for a checkable history to be established. We will consider each case on its merits.
Criminal Convictions
If you have convictions or cautions this doesn't necessarily mean that we won't be able to appoint you. It depends on the role you've applied for and the nature of the offence. 
The Rehabilitation of Offenders Act 1974 (Exceptions) Order 1975 does not apply to police officer posts, including the special constabulary.  You must therefore declare all previous convictions and cautions. 
Lancashire Constabulary apply the criminal convictions guidance contained in the College of Policing Vetting Code of Practice and associated Authorised Professional Practice (APP), and will reject applications in all cases where:
offences were committed as an adult or juvenile that resulted in a prison sentence (including custodial, suspended or deferred sentence and sentences served at a young offenders' institution or community home);
the applicant is, or has been, a registered sex offender or is subject to a registration requirement in respect of any other conviction.
For all other convictions or cautions we will reject applications where any of the following apply:
offences where vulnerable people were targeted
offences motivated by hate or discrimination
offences of domestic abuse
We take particular care where an applicant has been convicted of (or cautioned for) offences of dishonesty, corrupt practice or violence, which will also likely result in rejection.
Where previous convictions or cautions are present the impact of having to disclose those as a serving officer in all criminal cases you deal with might preclude clearance being granted.  
We consider each case on its own merits and, whilst you should presume convictions, cautions or other sanctions will lead to your application being rejected, there may be occasions where this will not be the case. 
There may also be circumstances where your suspected involvement in crime, or criminal associations make an offer of employment inappropriate.  
Financial Checks
Applicants should normally be free from significant debt or liability and be able to manage existing commitments.  We place our emphasis on managing debt sensibly and will run a credit reference check on all applicants to provide an overview of the current financial position.  This is compared to the information provided on the vetting form.   Police Regulations state that a police officer shall not willfully refuse or neglect to discharge any lawful debt.  
If you have existing county court judgements outstanding against you or have been registered bankrupt and have not discharged your bankruptcy we'll be unable to consider your application.  If you have been registered as bankrupt and have discharged the bankruptcy debts you won't be considered until three years after the discharge of the debt.  Debt Relief Orders (DRO) are treated the same as a bankruptcy. 
We will consider your application carefully if a credit reference check reveals you have a current individual voluntary arrangement (IVA). We don't make clearance decisions until we've seen evidence that you've maintained regular IVA repayments over a number of months taking into consideration also the size of the debt. The same principle applies where you have defaulted on accounts.   
If you can show you have and are adhering to debt management arrangements you may be considered. We'll need to see documentary evidence to demonstrate your commitment and adherence to any debt management arrangements and will consider each case on its own merits.
Open Source Checks – We will check content on publicly available social media sites.
Vetting Decisions – If your vetting is successful, our vetting unit will let the recruiting department know. If your clearance is declined our vetting unit will notify you personally and provide as much information as we can as to the reason. There may be occasions where we are unable to provide a detailed explanation.  There is an appeal process available.
After all of the above has taken place you will be given a formal offer of employment and you discuss start dates for your exciting new career!