Professional Policing Degree Holder Entry
Professional Policing Degree Holder Entry
Applications to join us as a Police Officer on the Professional Policing Degree Holder Entry are closed and will open again in 2024.
*Important Update* The Police Officer application form is no longer a full competency based question style and only basic personal information is now required. This means it should only take around 10 minutes to complete the whole application form.
If you want to join the ranks of Lancashire's police officers and have completed the BSc Professional Policing Degree, or are in your final year, then this is the route for you.
So how does it work? When you are successful in your application to join Lancashire Constabulary, you will commence a short period of initial learning (10-12 weeks) in the training centre at the Headquarters at Hutton nr Preston. This training will include sessions on personal safety training, ICT and systems training, CSI sessions, statement writing etc.
You will then deploy into your specified division and station for a period of around 4 weeks. Finally, a short period of training will commence before being permanently located with your new team out in division. * This training plan is subject to change.
Once fully trained, officers will be well qualified, both academically and operationally, to work within the modern policing environment, and can choose to specialise in one of the five core areas of policing: immediate response, community, road, intelligence or investigation.
This is an exciting and challenging way to train as a police officer, offering job security, a starting salary of £26,682, and a career where variety is guaranteed.
Support for Underrepresented Groups
We offer support (Positive Action) for underrepresented groups (black and minority ethnicities) by providing advice and guidance before and during the selection process.
Most candidates who attend positive action support sessions will say that they benefited considerably. Having the opportunity to become familiar with policing processes increased their knowledge and gave them confidence to submit an application of a higher standard. Equally so, those who attend national assessment centre support sessions have a higher chance of success, than those from under-represented groups who don't.
This is a competitive process whereby sacrificing a small amount of your time, could be the difference between a pass or fail.
So, BEFORE you submit your application form, CONTACT US at [email protected]
See our Positive Action section at the bottom of the page for full information.
Entry Requirements
You will need to hold a BSc Professional Policing Practice degree, or be predicted to achieve this prior to being offered a final job offer.
You can apply whilst waiting to complete your degree but must have your final result before final offer of employment.
Applicants MUST hold a manual driving licence at the time of applying.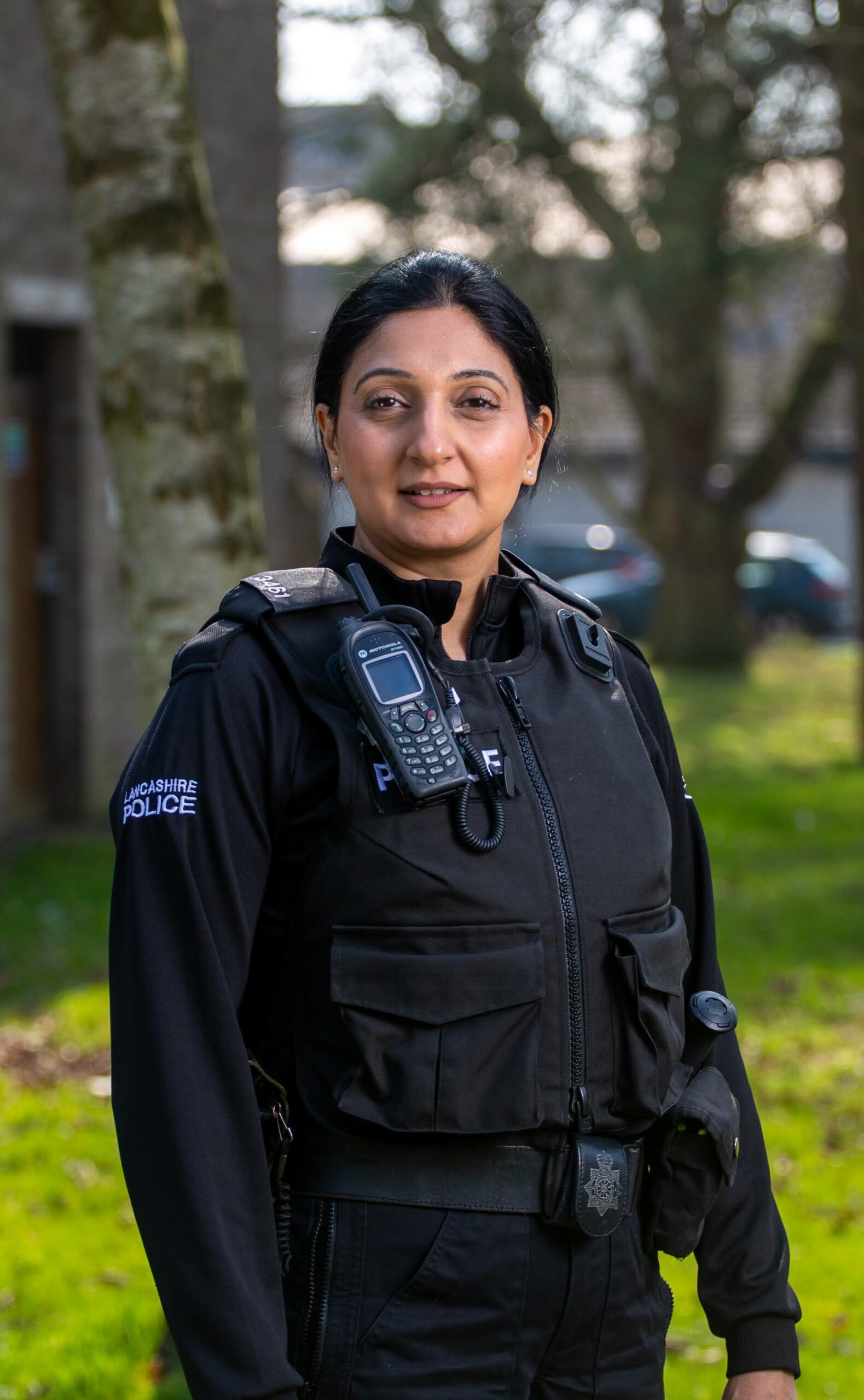 This year marks Nikki's 24th year working at Lancashire Constabulary and Nikki still loves what she does every day.  Nikki said "Time really does fly when you enjoy your job and I can truly say that I love what I do.
I started at Lancashire Constabulary in the Control Room answering 101 and 999 calls after studying for a degree in Chemistry.   After 5 years, I decided to apply for and was successful in becoming  a Police Officer."
" I am a mother of 3 children and have a very supportive and understanding family, as well as supportive supervision at work. During my time at Lancashire Constabulary I had flexible working arrangement in place to allow a good work / life balance."
Nikki recently moved to work in the Workforce Representation Team to support  applicants from underrepresented communities enter policing.  Nikki said, "By showing how much I have thrived in my career; I am very proud to be part of the team that endeavours to increase representation in Lancashire Constabulary."
The best part about being a Police Officer is the variety of the role.  Everyday is different and nothing surprises me.  You could be dealing with a shoplifter or responding to a major incident like a murder."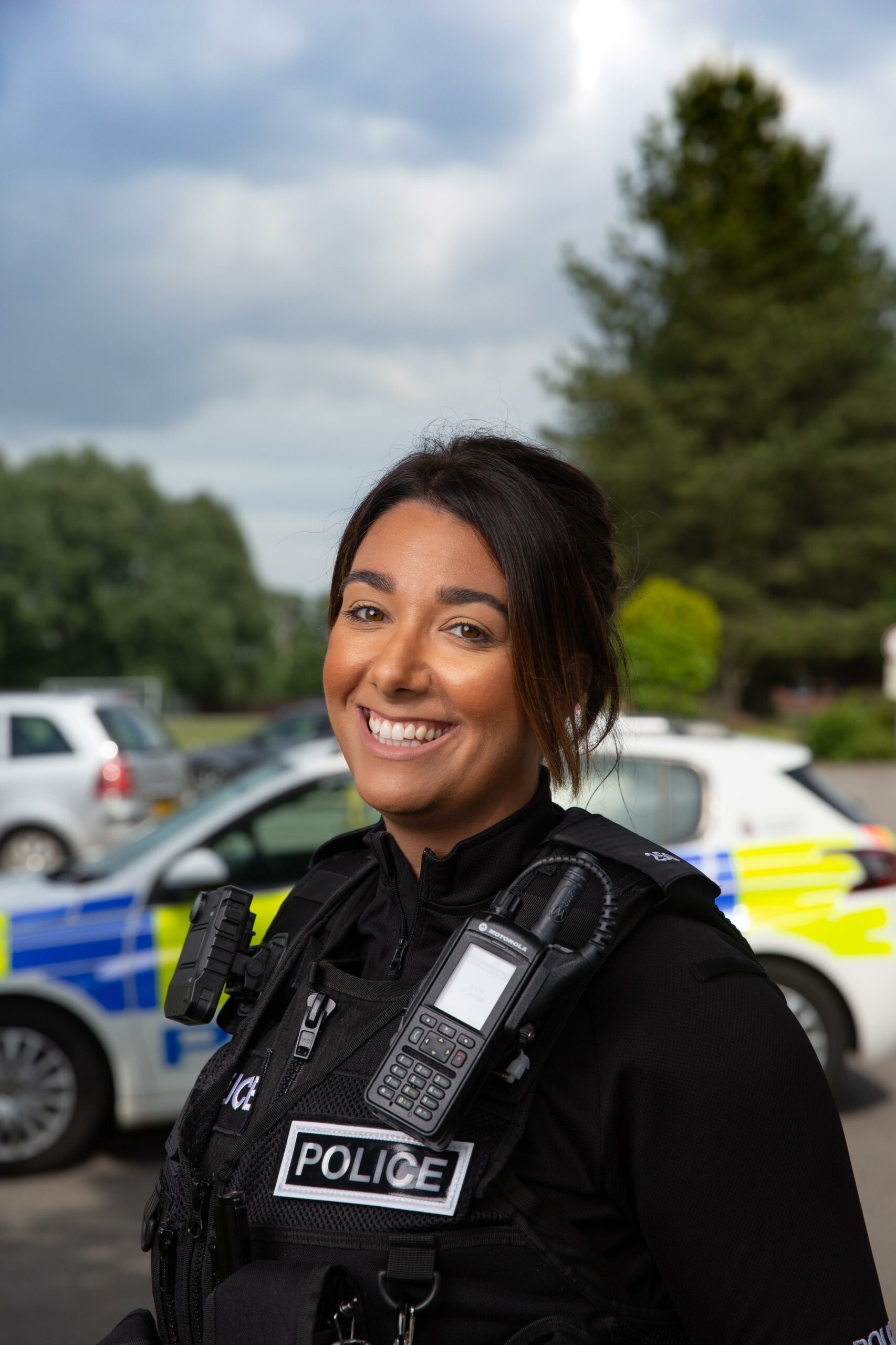 Yasmin initially began her career at Lancashire Constabulary working as a Police Control Room Operator (PCRO) as well as volunteering as a Special Constable. Yasmin told us: "I have always wanted to be a police officer and chose to complete a degree in Law at university which helped to fuel my passion for this career. Whilst working as a PCRO I got real exposure to the kind of jobs a police officer responds to which was very useful."
"I was used to working a shift pattern before starting this role and to be honest, the shifts work out quite well as I get to have time off at different times of the day and my shift schedule is provided upfront so I can easily make plans with friends and family."
"I am the first person in my family to be a police officer. At first, my Dad was worried about me, but knowing the extensive training I received and how much I love my job he is very supportive, and all my family and friends are proud" she said.
I know it sounds like a cliché but being able to help people is such a great aspect of the job and the adrenaline I get when driving blue lights is brilliant too!  I really enjoy working on immediate response it is fun… most of the time!
Before joining Lancashire Constabulary, Hugh graduated from Lancaster University after studying for a degree in philosophy and politics and worked a couple of par time roles, in a café and as a part time blacksmith. After becoming a police officer in July 2020, Hugh quickly learnt what he considers to be the best parts of the job. "I enjoy the high adrenaline parts of the job, but what is satisfying on a day-to-day basis is the small things, such as putting on my uniform and having the privilege of seeing things I would never see in my day to day life" said Hugh.
"In contrast, one of the hardest parts of the job is not being able to change the world in one swoop. I understand that it takes a lot of small efforts to make a change so sometimes need to make be a bit more realistic with my ambition to solve every problem straight away!"
If you are reading this and are considering a career as a police officer then I would highly recommend you do your research about the role. There is a lot to learn including lots of legislation which takes time to get to grips with so being able to retain information would really help. You also need to be robust, kind and humble to be a great police officer. I am looking forward to continuing working in local areas and neighbourhoods but would ultimately like to explore policing in organised crime or armed policing.
Before joining Lancashire Police on the Degree Holder Entry Programme, PC Georgia Boyle worked in our Evidence Related Property and Intel Departments, and also volunteered as a Special Constable for two years.
"I was an Intelligence Officer for a year, during which time I was seconded on a Child Sexual Exploitation Investigation," she said. "It was from working on that operation that I knew I wanted to be a detective, although I am open to seeing where the DHEP programme takes me."
The course combines operational duty with studying, with the latter currently being carried out remotely. Georgia said: "With COVID, it's delivered over Microsoft Teams at home, but I've coped with it, and my tutor really knows his stuff and is hot on your targets." The DHEP can be challenging but well worth it. Georgia told us: "On day three of being operational, during my first initial training on division, me and my tutor, PC John Gorst, were first on the scene at Blackpool pier, where a man was making threats to jump. We saw him on the other side of the railings and the first thing he said was "Get back or I'll jump"." With negotiators on standby, Georgia built a rapport with him, managing to gain his trust and talk him down.
"I'd like to think I saved his life, whether accidental or intentional, but either way we got the best result. I think from that job and other jobs I've dealt with I know this is what I want to do. It's a very rewarding job. You know a lot of people are doing it, not because they have to but because they want to. You can be dealing with things some people don't even know goes on or think twice about, and see people at the worst points in their lives, but you always get appreciated and looked after."

I would definitely recommend it. If it's something people want to do, I'd say go for it. No two days are the same. There's always something new to learn, new situations and new ways of dealing with them, and you get out of what you put in. It's a nice environment to work in, everyone is one big team. It sounds like a cliché, but everyone is welcoming and friendly, and there's good management which makes me want to work better for them. Well-being is a massive thing in Lancashire. Your colleagues are always checking on you, and if you've got an issue they're always there to help or refer you. 
Sergeant Andy Green worked for a short time as an engineer before changing careers to become a police officer Andy joined before the DHEP entry programme was introduced and after 18 years he is still happy with his choice. Currently a Sergeant in Immediate Response and managing a team of police officers, he enjoys the variety of his duties and the working hours too.

He said: "The community I grew up in hold the police in high regard and achieving this role has made my family and friends very proud. Working a shift pattern could be daunting to some but it works out great for me. I get lots of free time during the day which is perfect.

"I think anyone considering applying to become a police officer should really do their research into the role and don't be afraid to ask any officers you see about the role. Before you do apply though, you need to make sure you have good mental resilience. I thought that this role would be a really good fit for my personality as I am calm, approachable and have common sense. If you have these attributes then apply today!"

I decided to apply to become a police officer after looking for a role that can offer variety. I can honestly say that I deal with something different every day and this really keeps the role interesting. 
Professional Policing Degree Holder Entry
Application Process
The whole recruitment process can take some time as you go through the stages detailed and can take around 7 months. 
When applications are open, you are able to complete and submit your form online.  As of July 2022, there is an updated application form in place which is no longer a full Competency Based Question style application question set. This means that it will take around 10 minutes to complete the whole application form.
Make sure you read the application form carefully and provide full answers to all the questions.
The PC recruitment team undertake eligibility checks for all candidates, this involves checking candidates have the relevant level of qualification, the right to work in the UK, cautions and convictions and a minimum of 3 years residency within the UK.
Once these are completed and successfully passed the PC recruitment team will contact you via the recruitment portal to  invite you to the next stage of the recruitment process. Should a candidate fail any of the eligibility checks you will receive an email to explain why.
National Sift
All candidates will be required to undertake The National Sift,  the exercises will measure a candidates suitability for the role of a Police Constable. The National Sift contains Situation Judgement Tests (SJT) and Behavioural Style Questions (BSQ).
Ahead of the National Sift the PC Recruitment team will send candidates the required information, including a ink to the tests.  Once a candidate completes all the elements of the National Sift they receive their result immediately
On-line Assessment Centre (OAC)
Candidates successful at the National Sift will be invited to undertake the Online Assessment Centre (OAC)
There is a huge amount of information on the College of Policing website which can help you understand more about both of these processes. 
Don't worry we will inform you of everything you need to know before the assessments takes place so you will be fully prepared.
If you have failed either the National Sift or  OAC, you are not permitted to take the assessment process more than once in any three month period. Unsuccessful candidates can reapply three months after completing the process (from the date they commenced the National Sift or OAC). They will be required to retake the whole process. It should be noted that unsuccessful candidates can only apply to retake once in a 12-month period.
At this stage you will be invited to attend an interview. 
If your application passes the initial stages we will contact you to arrange an interview. The interview questions will seek to find out how you would perform in the job in question. 
We would also suggest visiting other sections of our website for information on our values and force priorities.  
If you are successful at interview, we will send you a conditional offer of employment together with details of the next steps. This offer will be subject to security, health and reference checks.
View our detailed FAQ's surrounding medical conditions before you complete your application form to understand any limitations there might be.
As a summary though;
Police officers encounter stressful situations, trauma, physical confrontation and work long hours on shifts. You'll need to be resilient enough to cope with the demands and pressures of police working and be in good health mentally and physically.
After passing the recruitment stages, you'll need to complete a medical questionnaire and get it signed by your doctor. You'll then have a medical examination to ensure you meet our health standards.
You'll also be asked to provide a urine sample whilst at your appointment, which we'll test for illegal substances.
We will test your hearing to ensure it meets home office standards.
We follow the Government's guidance on police officer health requirements. You can find out more about these and check the list of specific health conditions.
 Biometric Vetting
After your medical appointment, you will also be required to have your fingerprints scanned and a DNA sample (mouth swab) taken to check against the national police database.
Eye Sight
You must have:
Corrected distance vision of 6/12 or better with either the right eye or left eye.
6/6 vision with both eyes together with spectacles or contact lenses if worn.
Corrected near visual acuity of 6/9 or better, with both eyes.
You'll need to go to an optician at the medical stage to have your eyes tested and this will be checked at your medical assessment. If you don't meet the standard we'll be unable to take your application any further. Please note that these are minimum standards and do not guarantee entry into specialist roles.  You can wear glasses and contact lenses.
Information about colour blindness
If your colour blindness is monochromat, you will not meet the eyesight standard. However, trichromats and dichromats are acceptable.
Fitness
When it's time to complete your fitness test we'll invite you to our headquarters at Hutton, Preston.
Use the information below to help you to prepare for the fitness test. If you're new to fitness training or are a beginner we recommend that you seek medical advice prior to commencing any exercise programme.
The test we use is the multi-stage endurance test (also known as the bleep test, shuttle run or pacer test). It's a well-recognised test that gives a clear understanding of fitness level and one that you can practice prior to the assessment to give yourself the best possible chance of success.
If you don't reach the required level, you won't be able to proceed to the next stage. But, our assessor may give you the opportunity to try again.
If, after three attempts you haven't been able to pass then you'll need to wait 6 months before re-applying.
Bleep Test
The fitness test is part of police life. You'll retake it as part of your training and also take the test every year to ensure you're maintaining a suitable level of fitness for a service officer.
The multi-stage endurance fitness test is one of the most widely used tests of endurance. It's also easy to prepare for as all you'll need is a flat level surface that's 15 metres long and you can use our training recording or look on iTunes or Google Play for a bleep test training app. If using an app for your practice, ensure it is for 15 metres as some are for 20 metre runs.
What to Expect at the Bleep Test
 The test involves running back and forth in a straight line continuously along a 15 metre track. Every time you reach the edge you'll place your foot on the line and turn, ready for the next bleep when you'll set off again.
The test is progressive in that the bleeps start off slowly but become closer together so as the test progresses you'll need to run faster to reach the edge before the next bleep.
The first running speed is 'level 1', the second is 'level 2' and so on. Each level lasts around 50 seconds, but the number of shuttles at each level increases as the test progresses.
At the end of each level you'll hear a double bleep and the fitness tester will announce that you're starting a new level. You'll need to reach a 'level 5.4' rating to pass the test.
You'll need to meet the following:
Aged 17 or above on the day you apply and must be aged 18 or over upon appointment (we don't have an upper age limit and value the life experience that career changers bring).
Not be a member of the British National Party (BNP) or other organisations such as Combat 18 or The National Front.
If you have a criminal record, this doesn't mean you won't be considered. This depends on the nature of your conviction. Please declare any cautions or convictions on your application form. If you don't you could fail vetting due to integrity concerns.
Vetting clearance is unlikely to be granted if you have existing county court judgements (CCJ) outstanding against you.  If you have been registered bankrupt, clearance is unlikely until three years have passed since discharge of the debt.
Tattoos which are offensive, garish, prominent or numerous are not acceptable. Please supply photos and measurements of any tattoos along with your application.
You can re-attend our National Assessment Centre (NAC) if you failed the NAC within the last 3 months providing you were within 5% of the pass mark.  Otherwise you will need to wait 6 months between taking the NAC.
You must be a British Citizen, or hold a passport from a full EU Member State. You can also apply if you are a Commonwealth citizen or foreign national who is resident in the UK with indefinite leave to remain.
Residency Requirement
You must have lived in the UK for three continuous years, immediately before applying, to meet the minimum residency requirement. This is because we need to vet all applicants in an equitable manner, which requires a checkable history in the UK.  Applicants who cannot be vetted cannot be appointed.  
If you live permanently in the UK, you are considered to be a UK resident.  If you have moved overseas and severed major ties to the UK (e.g. closed bank accounts and sold property) you are considered to have surrendered your residency in the UK. This applies to people who maintain bank accounts purely for the purpose of receiving regular payments, e.g. a UK pension.
If you have spent a significant period of time overseas (normally up to one year) without returning to the UK but intend to return in the future, then we may be able to consider you.  This might apply, for example, if you have taken a gap year or similar before or following university, travelled for a year or spent time overseas visiting family (not an exhaustive list). We will need you to provide full details and will consider each case on its own merits.  
If you have been posted overseas as part of your service with HMG or the armed forces you are considered to have been resident in the UK for the period that you were abroad.
If you have been overseas as the spouse, partner or dependent of a member of the armed forces posted overseas then it may be possible to obtain the necessary assurance for a checkable history to be established. We will consider each case on its merits.
Criminal Convictions
If you have convictions or cautions this doesn't necessarily mean that we won't be able to appoint you. It depends on the role you've applied for and the nature of the offence. 
The Rehabilitation of Offenders Act 1974 (Exceptions) Order 1975 does not apply to police officer posts, including the special constabulary.  You must therefore declare all previous convictions and cautions. 
Lancashire Constabulary apply the criminal convictions guidance contained in the College of Policing Vetting Code of Practice and associated Authorised Professional Practice (APP), and will reject applications in all cases where:
offences were committed as an adult or juvenile that resulted in a prison sentence (including custodial, suspended or deferred sentence and sentences served at a young offenders' institution or community home);
the applicant is, or has been, a registered sex offender or is subject to a registration requirement in respect of any other conviction.
For all other convictions or cautions we will reject applications where any of the following apply:
offences where vulnerable people were targeted
offences motivated by hate or discrimination
offences of domestic abuse
We take particular care where an applicant has been convicted of (or cautioned for) offences of dishonesty, corrupt practice or violence, which will also likely result in rejection.
Where previous convictions or cautions are present the impact of having to disclose those as a serving officer in all criminal cases you deal with might preclude clearance being granted.  
We consider each case on its own merits and, whilst you should presume convictions, cautions or other sanctions will lead to your application being rejected, there may be occasions where this will not be the case. 
There may also be circumstances where your suspected involvement in crime, or criminal associations make an offer of employment inappropriate.  
Financial Checks
Applicants should normally be free from significant debt or liability and be able to manage existing commitments.  We place our emphasis on managing debt sensibly and will run a credit reference check on all applicants to provide an overview of the current financial position.  This is compared to the information provided on the vetting form.   Police Regulations state that a police officer shall not willfully refuse or neglect to discharge any lawful debt.  
If you have existing county court judgements outstanding against you or have been registered bankrupt and have not discharged your bankruptcy we'll be unable to consider your application.  If you have been registered as bankrupt and have discharged the bankruptcy debts you won't be considered until three years after the discharge of the debt.  Debt Relief Orders (DRO) are treated the same as a bankruptcy. 
We will consider your application carefully if a credit reference check reveals you have a current individual voluntary arrangement (IVA). We don't make clearance decisions until we've seen evidence that you've maintained regular IVA repayments over a number of months taking into consideration also the size of the debt. The same principle applies where you have defaulted on accounts.   
If you can show you have and are adhering to debt management arrangements you may be considered. We'll need to see documentary evidence to demonstrate your commitment and adherence to any debt management arrangements and will consider each case on its own merits.
Open Source Checks – We will check content on publicly available social media sites.
Vetting Decisions – If your vetting is successful, our vetting unit will let the recruiting department know. If your clearance is declined our vetting unit will notify you personally and provide as much information as we can as to the reason. There may be occasions where we are unable to provide a detailed explanation.  There is an appeal process available.
After all of the above has taken place you will be given a formal offer of employment and you discuss start dates for your exciting new career!