Police Community Support Officer
Police Community Support Officer
Applications are currently OPEN and will close 11th December at 10am.
*Important Update* The application form is no longer a full competency based question style and only basic personal information is now required. This means it should only take around 10 minutes to complete the whole application form.
Joining our constabulary as a Police Community Support Officer (PCSO) is a rewarding and challenging way to make a real difference to the people of Lancashire.
PCSOs provide a vital link between the community and the police service, making sure everyone has the support they need to keep our county safe. They develop excellent communication skills, through dealing with people from all walks of life in a non-confrontational manner as they patrol local neighbourhoods.
PCSOs don't have the power to arrest but they are a crucial part of our force. As well as providing a reassuring presence out on the beat, duties can include important tasks such as preventing speeding outside schools and reporting vandalism, to reducing antisocial behaviour and assisting officers at crime scenes, therefore they carry a great deal of responsibility.
With a starting salary of £21,459 rising to £27,545 (inclusive of shift allowances) and the option to work flexible shift patterns (after probationary and training period), this is a fantastic route to forging a long-term career with Lancashire Police.
Training takes place Monday to Friday, for approximately 6 weeks. Whilst in training you will not receive shift allowance.
Support for Underrepresented Groups
We offer support (Positive Action) to all under-represented groups. by providing advice and guidance before and during the selection process.
Most candidates who attend positive action support sessions will say that they benefited considerably. Having the opportunity to become familiar with policing processes increased their knowledge and gave them confidence to submit an application of a higher standard. Equally so, those who attend national assessment centre support sessions have a higher chance of success, than those from under-represented groups who don't.
This is a competitive process whereby sacrificing a small amount of your time, could be the difference between a pass or fail.
So, BEFORE you submit your application form, CONTACT US at [email protected]
See our Positive Action section at the bottom of the page for full information.
Entry Requirements
Recruits need level 2 qualifications (GCSEs / functional skills) in English and Maths at Grade 4 (C).
Check the list of qualifications to understand what you need to before joining.
You can apply whilst waiting to complete your qualification but must have your final result before final offer of employment. You can also apply aged 17 but must be aged 18 before you start.
Blackpool PCSO, Elly Robertson joined Lancashire Constabulary two and a half years ago after working as a personal trainer and fitness instructor. Elly loves working with people face to face and said "it was actually a friend of mine who encouraged me to apply for the role and I am so glad they did as I really enjoy it. Getting to meet different people every day and help solve problems makes my job feel worthwhile."
It is no surprise that community engagement is at the heart of being a PCSO. "Getting to know the communities and making a change to people's opinions is very rewarding. I work alongside a fantastic team of people who all pull together to achieve positive outcomes for the communities of Lancashire," she explained.
Being able to start a conversation is really important in this role and you will often have to initiate conversations with the community. Often people will look to you for answers, so being able to listen and understand a situation before offering advice is vital to ensure you can build trust with people. If someone is considering this role and thinks they have great relationship-building skills then this might very well be the perfect role for them!
Colin Hester has worked as a Police Community Support Officer for 16 years, after previously working as a long-distance lorry driver and in the armed forces. Joining Lancashire Constabulary has been a lifelong ambition. I have always wanted to work in law enforcement and although I did have the ambition to join as a Police Officer, I began my career as a PCSO. I haven't looked back since and thoroughly enjoy my job.
Like everyone who works at Lancashire Constabulary, wanting to make a difference to people's lives is high up on the list of reasons for working here and Colin couldn't agree more. "Making a difference to a person's life is very rewarding and to do this you have to be able to really integrate yourself in the local community. When that community knows that they can rely on you to help them I know I have provided a fantastic service."
Having worked long and unpredictable hours in his previous role, working on a set shift pattern has made a big impact on Colin's work-life balance. He said: "The shift pattern is brilliant. I used to work 15 hour days when driving long distance and having a set shift pattern means that I can plan social events and my free time much easier."
Being a PCSO does have its challenges and one of the most important tools I have in my kit is my voice. Being able to communicate with people is key along with listening to problems which really affect peoples lives. If you want to gain life experience in a job like no other, then this could be the perfect job for you.
Kinga Wisniowska joined Lancashire Constabulary in 2020 after working for a number of years in retail. Kinga had always dreamt of becoming a Police Officer and chose to apply for the role of Police Community Support Officer to begin her career, get a real understanding of policing and gain insight into the communities she could potentially serve as a Police Officer.
Kinga said "The role of a PCSO is so varied, the fundamentals are getting to know your area, building good rapport with the residents and communities and looking at ways you can help solve their problems. You plan your days by prioritising the different jobs and tasks you're given; you must be able to use your own initiative and create your own work. I always love to keep busy and in this job you most certainly never get bored."
"You come across new scenarios daily and have to figure out the best ways to deal with them, and you always have the support and back up from your colleagues. Even though this is a non-confrontational role and therefore our powers are limited, we're always confident that if a situation escalates, we have the backup of the PCs," she explained.



I would recommend this role to anybody who loves engaging with the public, helping people, genuinely cares about the issues in our communities and believes they can make a difference. My parents and family couldn't be prouder of me and the work that I do. I am also extremely proud to be a part of the Lancashire Police family.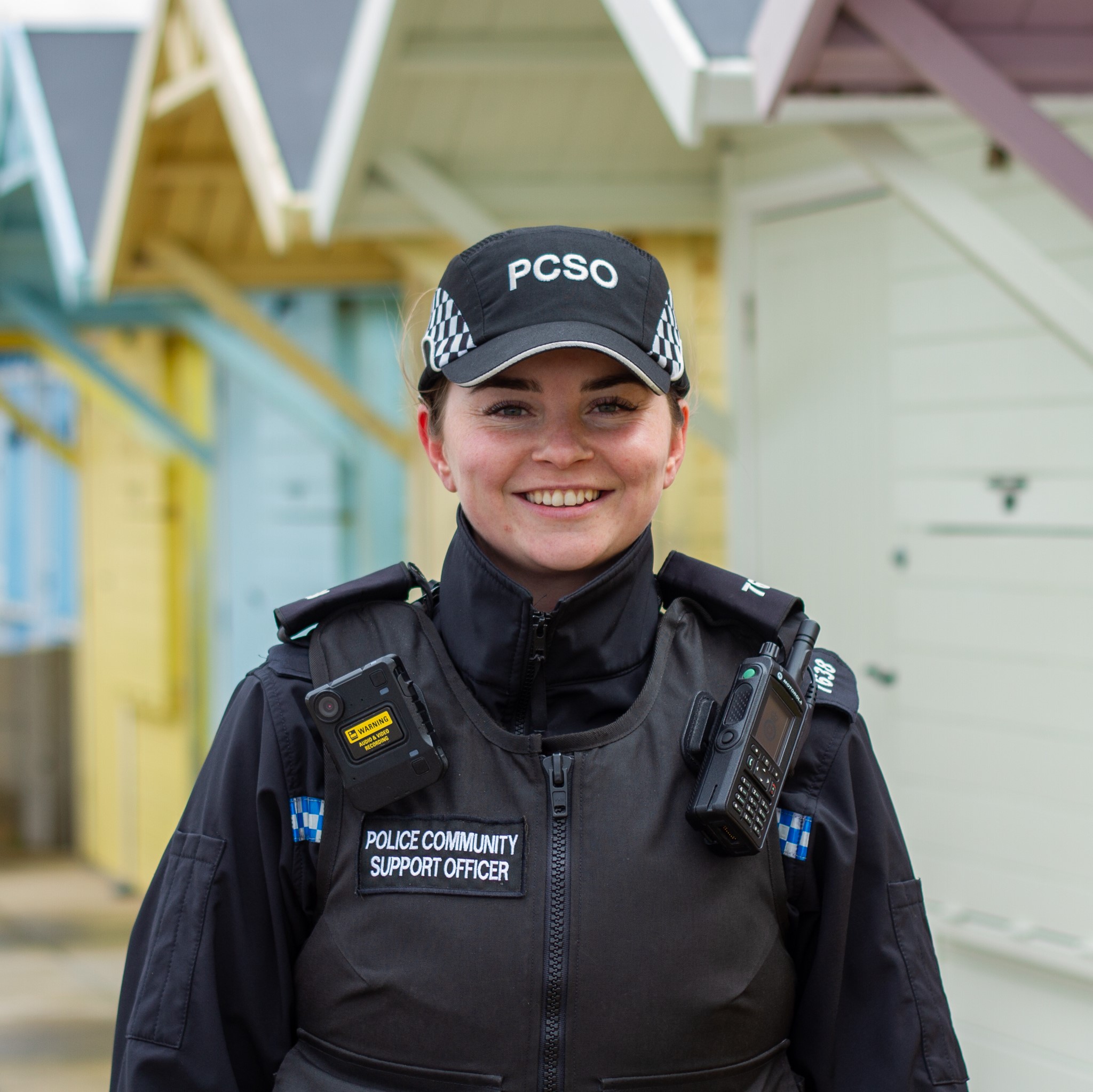 PCSO Mollie joined as a PCSO in August 2021 after completing a BSc in Nutrition and Health and working for a heating company.  Mollie is thriving in the role and in particular the variety the role brings.  Mollie said: "No day is the same in this job! Briefing from the days before is important to know what's happening in my area and reading intel gives me a good understanding of what's going on with OCG's.
"My day's can be varied – Providing community reassurance after an incident, attending road traffic collisions, dealing with low level theft and criminal damage. We get tasked to assist with drugs warrant searches, searching for missing people and dealing with neighbourhood disputes to ensure they do not escalate."
My advice would be to always have a positive mental attitude, throughout the application process and then if you are successful. The more confidence and eagerness to be able to have an impact on a community, the better.
Karen Gunthorpe joined Lancashire Constabulary 11 years ago as a Police Community Support Officer (PCSO) after working in a business administration role in the theatre and arts sector.
Karen wanted a role where she got to meet different people every day. She said: "To be honest I got a bit bored working in an office environment, doing the same thing day in and out, and as I am a real people person I jumped at the chance to do a role where I get to meet people every day, where no day is the same. The role of a PCSO is non-confrontational, however being approachable and having the ability to listen is key when working with people in the community. You also have to be creative with solutions to problems, so thinking outside of the box is useful" she explained.
I enjoy my work immensely and although some people use this as a springboard to become a police officer, I couldn't think of a better job for me. Being the person who helps to solve someone's issue, making things better and making them feel safe is a real privilege. 
Police Community Support Officer
Application Process
When applications are open, you are able to complete and submit your form online.  There is no longer a full Competency Based Question style application question set. This means that it will take around 10 minutes to complete the whole application form.
Make sure you read the application form carefully and provide full answers to all the questions.
Once we receive your completed form, we will check it against our standard recruitment criteria – e.g. convictions and nationality. If you are eligible to work for Lancashire Constabulary, your application will move on to the next stage. 
If your application is unsuccessful at this stage, we will contact you by email to let you know.
National Sift
All candidates will be required to undertake The National Sift,  the exercises will measure a candidates suitability for the role of a Police Community Support Officer. The National Sift contains Situation Judgement Tests (SJT) and Behavioural Style Questions (BSQ).
Ahead of the National Sift the PCSO Recruitment team will send candidates the required information, including a ink to the tests.  Once a candidate completes all the elements of the National Sift they receive their result immediately
There is a huge amount of information on the College of Policing website which can help you understand more about this process. 
Scores are valid for 2 years – if you have a valid score with another force you will need to submit an application form and we will contact you about transferring your National Sift score over to Lancashire Constabulary
At this stage you will be invited to attend an interview.  
This will be face to face.
If your application passes the initial stages we will contact you to arrange an interview. The interview questions will be based around the same criteria as detailed on the candidate specification and will seek to find out how you would perform in the job in question.  We would also suggest visiting other section of our website for information on our values and force priorities. 
You'll need to meet the following:
Aged 18 or above on the day you apply and must be aged 18 or over upon appointment (we don't have an upper age limit and value the life experience that career changers bring).
Not be a member of the British National Party (BNP) or other organisations such as Combat 18 or The National Front.
If you have a criminal record, this doesn't mean you won't be considered. This depends on the nature of your conviction. Please declare any cautions or convictions on your application form. If you don't you could fail vetting due to integrity concerns.
Vetting clearance is unlikely to be granted if you have existing county court judgements (CCJ) outstanding against you.  If you have been registered bankrupt, clearance is unlikely until three years have passed since discharge of the debt.
Tattoos which are offensive, garish, prominent or numerous are not acceptable. Please supply photos and measurements of any tattoos along with your application.
You can re-attend our National Assessment Centre (NAC) if you failed the NAC within the last 3 months providing you were within 5% of the pass mark.  Otherwise you will need to wait 6 months between taking the NAC.
You must be a British Citizen, or hold a passport from a full EU Member State. You can also apply if you are a Commonwealth citizen or foreign national who is resident in the UK with indefinite leave to remain.
Residency Requirement
You must have lived in the UK for three continuous years, immediately before applying, to meet the minimum residency requirement. This is because we need to vet all applicants in an equitable manner, which requires a checkable history in the UK.  Applicants who cannot be vetted cannot be appointed.  
If you live permanently in the UK, you are considered to be a UK resident.  If you have moved overseas and severed major ties to the UK (e.g. closed bank accounts and sold property) you are considered to have surrendered your residency in the UK. This applies to people who maintain bank accounts purely for the purpose of receiving regular payments, e.g. a UK pension.
If you have spent a significant period of time overseas (normally up to one year) without returning to the UK but intend to return in the future, then we may be able to consider you.  This might apply, for example, if you have taken a gap year or similar before or following university, travelled for a year or spent time overseas visiting family (not an exhaustive list). We will need you to provide full details and will consider each case on its own merits.  
If you have been posted overseas as part of your service with HMG or the armed forces you are considered to have been resident in the UK for the period that you were abroad.
If you have been overseas as the spouse, partner or dependent of a member of the armed forces posted overseas then it may be possible to obtain the necessary assurance for a checkable history to be established. We will consider each case on its merits.
Criminal Convictions
If you have convictions or cautions this doesn't necessarily mean that we won't be able to appoint you. It depends on the role you've applied for and the nature of the offence. Under the Rehabilitation of Offenders Act 1974 all police staff applicants have to declare previous convictions and cautions which would ordinarily be considered 'spent'.
However, the Rehabilitation of Offenders Act 1974 (Exemptions) Order 1975, provides that if you're applying for a police staff role you do NOT have to declare any information in relation to a PROTECTED caution or a PROTECTED conviction.
A protected conviction is one where ALL the following applies:
It is not for a 'listed offence'* under Article 2A(5) of the Rehabilitation of Offenders Act 1974 (Exceptions) Order 1975
No custodial sentence was imposed
The individual has not been convicted of any other offence at any time
11 years or more have passed since the conviction, if the individual was aged 18 or over at the time of conviction, or 51/2 years or more have passed since the conviction if the individual was under 18 at the time ¬¬of the conviction.
A protected caution is one where ALL the following applies:
It is not for a 'listed offence' * under Article 2A(5) of the Rehabilitation of Offenders Act 1974 (Exceptions) Order 1975;
6 years or more have passed since the caution, if the individual was aged 18 years or over at the time the caution was given, or 2 years or more have passed since the caution if the individual was under 18 at the time the caution was given.
* Listed offences include serious, violent and sexual offences and offences that are of specific relevance to the safeguarding of children and vulnerable adults, and will never be filtered or protected. There is a a list of offences which will never be filtered or protected.
As an applicant, you are responsible for understanding if you have a protected caution or conviction and to complete the vetting form correctly. If in doubt, contact our vetting unit for advice.
Lancashire Constabulary apply the criminal convictions guidance contained in the College of Policing Vetting Code of Practice and associated Authorised Professional Practice (APP) to all police staff applications and will reject applications in all cases where: 
offences were committed as an adult or juvenile that resulted in a prison sentence (including custodial, suspended or deferred sentence and sentences served at a young offenders' institution or community home);
the applicant is, or has been, a registered sex offender or is subject to a registration requirement in respect of any other conviction.
For all other convictions or cautions we will reject applications where any of the following apply:
offences where vulnerable people were targeted
offences motivated by hate or discrimination
offences of domestic abuse
We take particular care where an applicant has been convicted of (or cautioned for) offences of dishonesty, corrupt practice or violence, which will also likely result in rejection.
We consider each case on its own merits and, whilst you should presume convictions, cautions or other sanctions will lead to your application being rejected, there may be occasions where this will not be the case. 
There may also be circumstances where your suspected involvement in crime, or criminal associations make an offer of employment inappropriate. 
Financial Status
We run a credit reference check on all applicants. Police staff have access to privileged and highly sensitive information, which may make them vulnerable to corruption, so it's important for us to understand applicants' financial situation. Applicants to the police service should normally be free from serious debt or liability and be able to manage existing loans. We place our emphasis on managing debt sensibly.
If you have existing County Court Judgement's outstanding or have been registered as bankrupt and have not discharged your bankruptcy we'll be unable to consider your application. If you have been registered as bankrupt and have discharged their bankruptcy debts you won't be considered until three years after your discharge of the debt. Debt Relief Orders (DRO) are treated in the same way as bankruptcy.
We will consider your application carefully if a credit reference check reveals you have a current individual voluntary arrangement (IVA). We don't make clearance decisions until we've seen evidence that you've maintained regular IVA repayments over a number of months and taking into consideration also the size of the debt. The same principle applies where you have defaulted on accounts.
If you can show you have and are adhering to debt management arrangements you may be considered. We'll need to see documentary evidence to demonstrate your commitment and adherence to any debt management arrangements and will consider each case on its own merits.
Open Source Checks – We will check content on publicly available social media sites.
Vetting Decisions – If your vetting is successful, our vetting unit will let the recruiting department know. If your clearance is declined our vetting unit will notify you personally and provide as much information as we can as to the reason. There may be occasions where we are unable to provide a detailed explanation.  There is an appeal process available.
You will be required to complete a medical questionnaire prior to attending our Occupational Health and Wellbeing department where by you will seen by one of our nurses who will undertake your hearing test and take a urine sample to check for use of illegal substances 
After all of the above has taken place you will be given a formal offer of employment and you discuss start dates for your exciting new career!